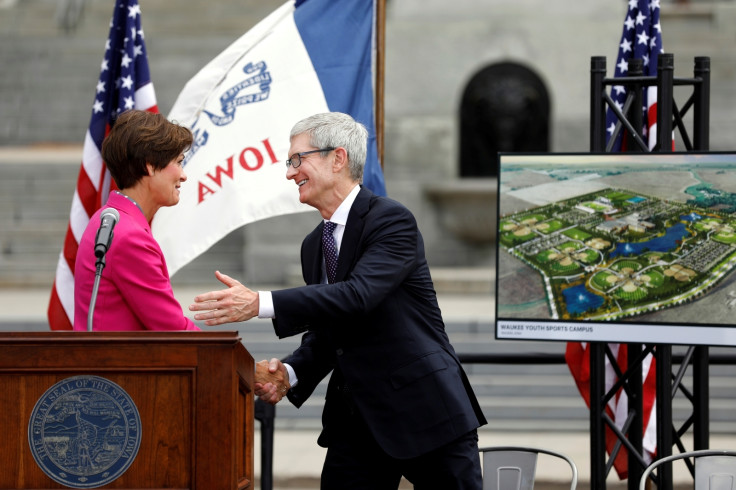 Technology giant Apple has announced plans for the construction of a data centre worth $1.3bn (£1.02bn) in Waukee, Iowa.
"This new data center will play a very important role in the App Store's continued success," Tim Cook said, speaking at the announcement. "As the App Store grows, we look forward to growing in Iowa," he added.
Apple data centres are used by the company to host a slew of web based services like the iCloud, App store, and Apple Music. They currently operate data centres in Nevada, North Carolina, Oregon, and California.
The Cupertino, California-based company will be joining other tech majors like Facebook, Google, and Microsoft who already have data centres in the state of Iowa.
According to a Reuters reports, the company will be procuring 8.09 square km of land on which the data centre will be built, costing the firm $110m. However, it is not clear when the project is slated to begin.
Apple will reportedly be receiving an incentive package from the state in exchange of brining their project to Iowa. According to the report, Iowa Economic Development Authority and Waukee city council have approved of incentives worth $207.8m (£161m) that includes a $19.65m in investment tax credit from the state.
Iowa's $188.2m incentive package towards this project comes to Apple in the form of a 71% abatement in property tax payments from the city of Waukee that according to reports, will stretch out for 20 years.
Apple has said that the project will generate over 550 jobs to the state in terms of construction and operations, but there was no word on whether these jobs will be long term. Tim Cook spoke on the occasion saying that the project "will create hundreds of jobs for people in Iowa from construction to engineering."
A major bulk of the project's estimated cost of $1.3bn will reportedly go toward the construction of the site which estimated to be around $620m, computer equipment is estimated to cost around $600mn (£468mn), and other expenses will come up to $45m, according to the report.
Another major supplier to Apple, Foxconn is reportedly looking to set up an LCD plant in the state of Wisconsin worth $10bn, but are also seeking $3bn in subsidies. It is reported that tax subsidies from states are something that companies are looking into as a major issue before they decide to set up shop there.