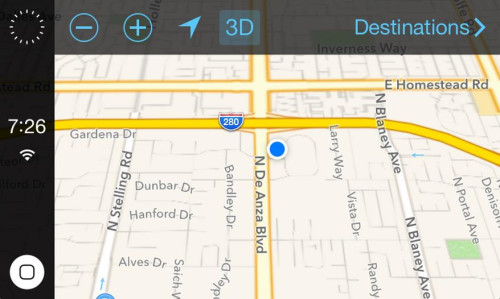 Apple's iOS In The Car has undergone some major user interface changes since it was first announced in June last year, according to screenshots leaked by a developer.
Steve Troughton-Smith uploaded a number of screenshots of iOS In The Car to his Twitter profile, showing an interface significantly altered to that first shown off by Apple last summer (below).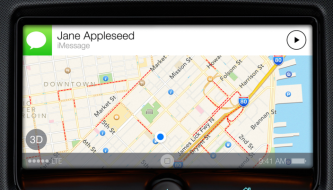 The interface's status bar - found at the top of a regular iOS device - has been moved from the bottom to the left side, while a panel for controlling the map view now resides at the top of the screen in a semi-transparent grey bar.
Apple has changed the overall look to something less related to the iOS used by iPhones and iPads, with blue used for the mapping and menus navigation controls.
Simulator
Further images tweeted by Troughton-Smith, and believed to have been grabbed from the Mac-based iOS simulator, show the application's home screen and its navigation user interface; a safety warning presumably shown each time the app opens was also published.
The app's status bar, which includes the time, signal strength and an icon representing an iPhone's Home button, remains fixed to the left side of the interface.
There isn't much to take away from these leaked screenshots, other than proof that Apple is continuing to developer iOS In The Car, which is listed as 'coming soon' on the company's website.
Apple said last year its initiative to bring iOS to drivers' dashboards has partnered with 12 manufacturer, including Honda, Mercedes, Nissan, Ferrari, Kia, Hyundai, Volvo, Opel (Vauxhall in the UK) and Jaguar.
Competition from Google and the Open Auto Alliance
The iPhone maker's race to bring mobile operating systems to our cars gained a competitor early this year in the form of Google and its Open Auto Alliance.
OAA aims to bring Android to vehicles this year, creating a common platform across a range of international manufacturers.
Announced at the CES trade show in Las Vegas, OAA members include Audi, General Motors, Honda, Hyundai and chip maker Nvidia, whose Tegra K1 will be used to power future in-car computers.
Until now, car manufacturers have all offered their own, bespoke user interfaces, leading to a lack of familiarity from one make of vehicle to another. By rolling out an Android platform to several manufacturers, drivers will be greeted with a familiar experience across brands.
Developers will also benefit, as their applications will work on a wide range of vehicles without the need for extensive modification.