Apple iPhone 6 Plus vs Google Nexus 6: Battle of the flagship smartphones of 2014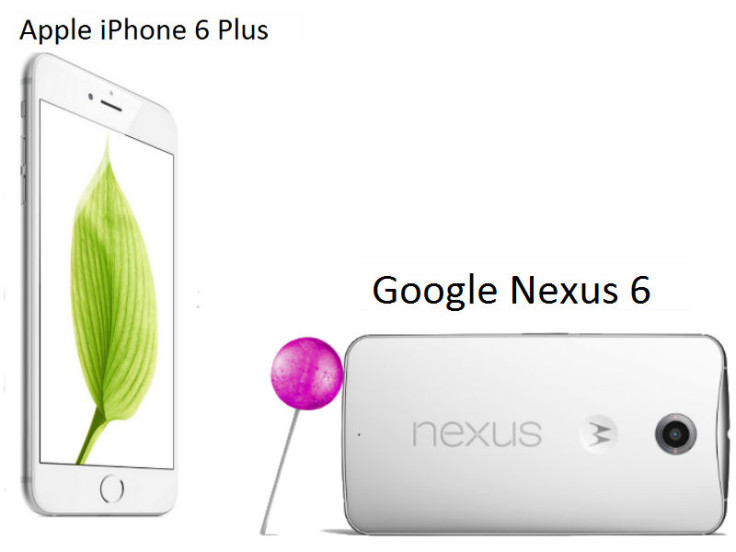 2014 witnessed the release of several high-end flagship devices destined to please not just the elite, but also the budget conscious smartphone buyers across the world.
Two such important flagship smartphones that were launched in 2014 include the Google Nexus 6 and Apple's iPhone 6 Plus.
Let's see how the Apple iPhone 6 Plus and Google Nexus 6 stack up against each other. The comparison should also give you a clear idea about which high-ender to purchase.
Apple iPhone 6 vs Google Nexus 6
Display
Apple's iPhone 6 Plus incorporates a large 5.5in LED-backlight display with a capacitive touchscreen. The smartphone's display has a resolution of 1080 x 1920 and pixel density of 493 pixels per inch (PPI).
The display is covered by shatterproof glass and oleophobic coating.
On the other hand, the Google/Motorola Nexus 6 comes with an even larger 5.96in AMOLED display with capacitive touchscreen. The display resolution is 1440 x 2560 with pixel density of 493 ppi.
The Nexus 6's touchscreen is enclosed within the Gorilla Glass 3 screen protector.
Both iPhone 6 Plus and Nexus 6 boast multi-touch support and reproduce 16 million colours.
On paper, the Nexus 6 provides superior display features when compared to iPhone 6 Plus, but in reality iPhone 6 comes with better viewing angles, good contrast and a wider colour range, but renders a tad lower sharpness on the screen in comparison to Nexus 6.
Also, the iPhone 6 Plus offers one-handed operation via the Apple Reachability feature.
Hardware
iPhone 6 Plus is powered by a 1.4GHz dual-core 64-bit A8 processor which is an all-round top performer.
Nexus 6 is powered by a 32-bit quad-core Qualcomm Snapdragon 805 processor clocked at 2.7GHz.
In terms of RAM, iPhone 6 has only 1GB of RAM on board, whereas the Nexus 6 incorporates 3GB RAM.
Both the smartphones let users indulge in a decent degree of high-end gaming, thus making the battle quite even.
For connectivity, users of both the smartphones get 4G LTE but the Nexus 6 supports the more advanced Bluetooth 4.1 in comparison to the Bluetooth 4.0 supported by iPhone 6 Plus.
Memory
Apple's iPhone 6 Plus comes in 16GB, 64GB and 128GB fixed internal storage variants.
On the other hand, buyers get to purchase the Nexus 6 in 32GB and 64GB fixed internal storage forms.
Camera
In the all important camera aspect, iPhone 6 Plus features an 8MP dual-LED camera which supports shooting 1080p videos at 60 frames per second and geo-tagging of photos. Apple's flagship also incorporates a 1.2MP front camera that lets users participate in basic video calling.
The Nexus 6 clearly trumps iPhone 6 Plus with its 13MP rear camera that features dual-LED flash and also lets users geo-tag images. Nexus 6's 13MP camera lets users shoot 2160p videos at 30 frames per second. Nexus 6 also provides a 2MP front camera for video calling.
One important feature that both the high-end smartphones possess is optical image stabilisation (OIS) that reduces the shaky hand effect on images.
Battery
Apple iPhone 6 Plus features a fixed 2915mAh Lithium-Polymer battery, in comparison to the non-removable 3220 mAh Lithium-Polymer battery present within the Nexus 6.
A better battery naturally leads to better talk-time and standby time, so it is clear who the winner in this segment is.
Software
The iPhone 6 Plus runs Apple's iOS 8 out of the box, but the OS can be upgraded to iOS 8.1.2.
Nexus 6 runs Google's all important Android 5.0 (Lollipop) operating platform, straight out of the box.
Both the smartphones draw level, as far as software operability and intuitiveness are concerned.
Release date and price
Both the Apple iPhone 6 Plus and Google Nexus 6 (manufactured by Motorola) have been officially released, and are available for purchase in various countries of the world.
In UK, a 16GB iPhone 6 Plus has a price tag of £619, whereas the Nexus 6 (32GB model) can be bought by shelling out £499 in the country.
The above prices are applicable to SIM-free variants in the UK.
© Copyright IBTimes 2023. All rights reserved.