iOS 8.0/8.1 Untethered Jailbreak: Saurik Releases New Cydia Installer with Fix for Passcode Issue, Multitasking, iPhone 6 Support and More
Cydia Substrate (v0.9.5016) brings bug-fixes for iOS versions older than 4.3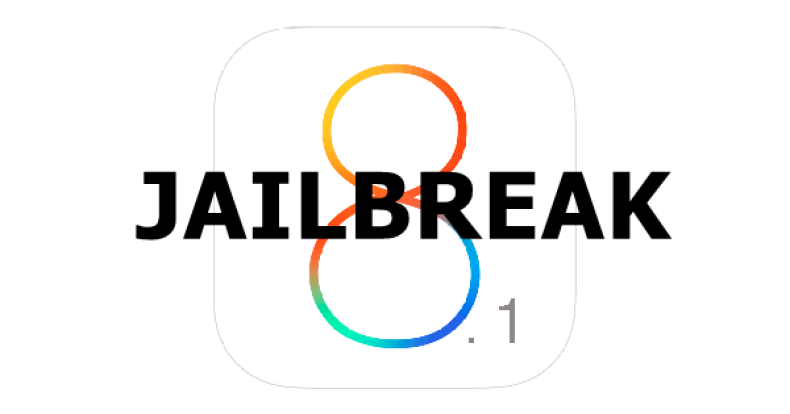 Jay Freeman (aka Saurik) has just rolled out a couple of bug-fix updates with Cydia installer (v1.1.14 and v1.1.15) wherein the former addresses the passcode issue while also adding a bunch of enhancements such as multitasking and iPhone 6 support in iOS 8.
On the contrary, the v.1.1.15 update fixes a bug with cache cleaning apps like iCleaner and restricts iPad and iPhone 6 Plus to landscape mode, besides modifying the Installed tab icon.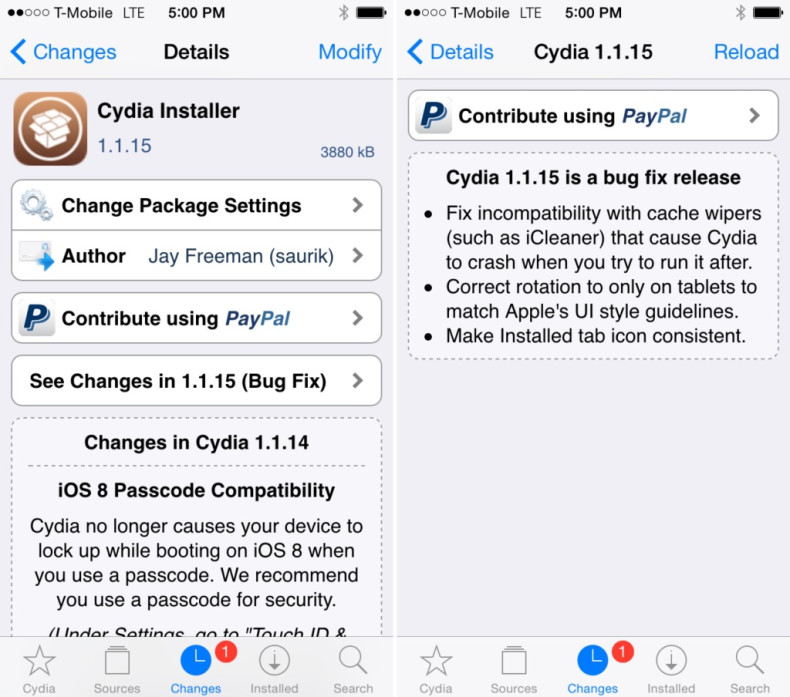 Here are the full release notes for the latest Cydia Installer (v1.1.15), courtesy iPhone Hacks:
Fix incompatibility with cache wipers (such as iCleaner) that cause Cydia to crash when you try to run it.
Correct rotation to only on tablets to match Apple's UI style guidelines.
Make Installed tab icon consistent.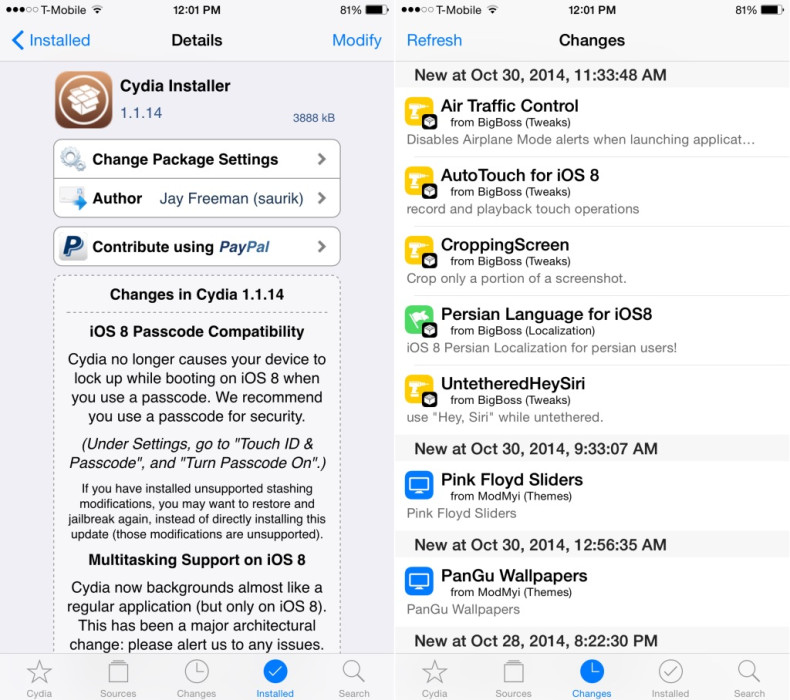 The other key issues that have been addressed with Cydia 1.1.14 update include pop-up blocking on Cydia repositories to prevent browser hijacking to the App Store and Cydia localisation features are now enabled in iOS 8.
Those who have already installed Cydia on their iOS 8.x jailbroken devices can go ahead and install the bug-fix updates as follows:
Launch Cydia from the Home Screen
Tap Changes tab
Finally, hit the upgrade button
Meanwhile, there is great news for jailbreakers, as they can now enjoy the latest version of Cydia Substrate (v0.9.5016) from Saurik that brings bug-fixes for iOS versions older than 4.3.
As iDownloadBlog reports, here is Saurik's complete change log for his latest release of Cydia Substrate:
Substrate 0.9.5016 fixes a bug on iOS versions before 4.3 (versions 0.9.5014 and 0.9.5015 caused many devices to spontaneously reboot after installation and then not boot again without first disabling Substrate with volume up).
With App Store developers ceasing support for early versions of iOS (4.3 and lower), the jailbreak community finds some solace with Saurik's periodic bug-fix updates for Cydia, especially given the fact that it supports older firmware like iOS 2.
Interested users may check out our step-by-step guide for fixing passcode issue on iOS 8.x jailbroken device with Cydia installed.