Apple iPhone 7S to have glass back and wireless charging, new pictures claim
Photos of unconfirmed iPhone 7S dummy model show glass back for inductive charging.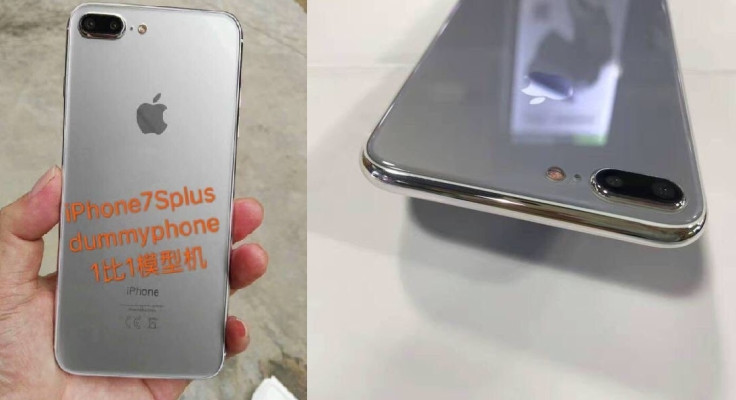 A lot has been said about the iPhone 8, but we shouldn not ignore the two other handsets expected from Apple before the end of 2017: the iPhone 7S and 7S Plus.
Although these are only expected to be minor upgrades on last year's models, they are tipped to usher in wireless charging to Apple's phone range for the first time.
Until now, wireless charging had only been available with the Apple Watch, but if a slew of rumours are to be believed, the iPhone 7S will get the feature as standard. And now, adding further fuel to the flames, a set of images claimed to be of a glass-backed iPhone 7S mock-up have appeared online.
Inductive wireless charging would not be possible with the iPhone's existing aluminium back, so glass is used as an alternative.
It is not clear where this dummy phone was manufactured, but the photos were supplied to 9to5Mac by Sonny Dickson, a well-known technology tipster who has on previous occasions shown off accurate dummies of future iPhones and iPads before launch. Dickson has also had some misses, but given the number of rumours we have heard about wireless charging we are inclined to believe this is what the iPhone 7S and larger 7S Plus will look like.
Glass back aside, the iPhone 7S is expected to be very similar to the 7 and 7 Plus. It will likely receive a faster processor and improved cameras - as is normal for the 'S' year of the iPhone cycle - and a boost in minimum storage from 32GB to 128GB is also on the cards.
These two phones are widely expected to be launched alongside a flagship model called the iPhone 8 (or possibly the iPhone X or iPhone Pro if rumours are to be believed), however, this model is thought to be delayed and will not go on sale until slightly after the usual late-September release window.
The iPhone 8 is expected to have a different design with a longer screen, an OLED display panel and a higher price tag than previous iPhones.
© Copyright IBTimes 2023. All rights reserved.