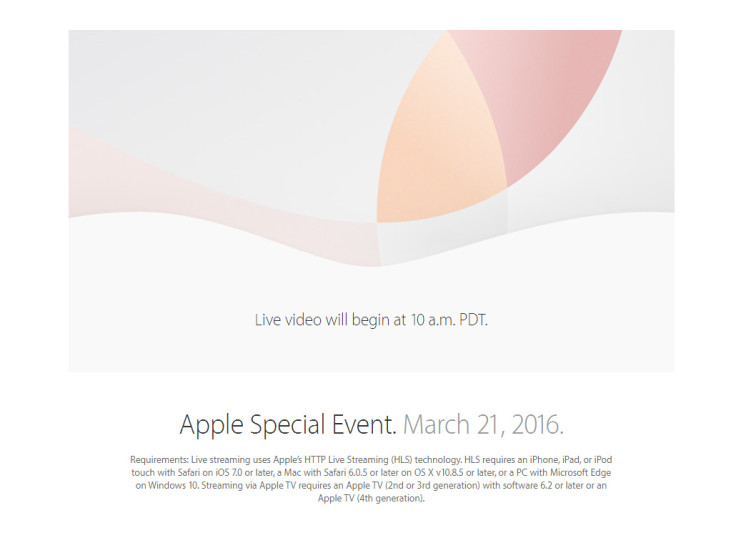 Apple is expected to announce new devices today (21 March) at its California headquarters, with the stars of the show likely to be the 4-inch iPhone SE and the new iPad Air 3. The event kicks off at 10am local time (5pm GMT, 6pm CET, 1am Australian Central Time) and IBTimes UK will be reporting everything that comes out of the proceedings.
As usual, Apple will be livestreaming the event for those looking to get in on the action without having to leave the safety and comfort of their homes. Apple device users can tune in here on Apple's website on the Safari browser, provided they are using a Mac on OS X (Mountain Lion) version 10.8.5 or newer or an iPhone or iPad with iOS 7.0 or later. Windows 10 PC users can access the livestream through Microsoft's Edge browser via the same link.
Spectators can also watch the livestream through Apple TV. This method requires Apple TV 2nd or 3rd generation with software version 6.2 or higher, or the latest Apple TV 4th gen. Those who quality can watch the Apple livestream through the Apple Events app, which is available in the App Store.
Perhaps unsurprisingly, Android users will find it more difficult to join in on the action, though it's not impossible. The easiest workarounds is to download and install the VLC media player, which will allow users to enter the URL of the livestream in the 'Media' drop-down menu. This Reddit post should help guide you through the process.
Alongside the new 4-inch iPhone SE, Apple is widely expected to unveil the iPad Air 3 and potentially a new set of watch straps for its Apple Watch. Some rumours even go so far as to suggest Apple might surprise everyone by announcing its own VR headset, which the company is said to have been secretly ferreting away at over the past few months.
Whatever happens tonight, IBTimes UK will be on hand to report everything that Cupertino cooks up. Stay tuned.