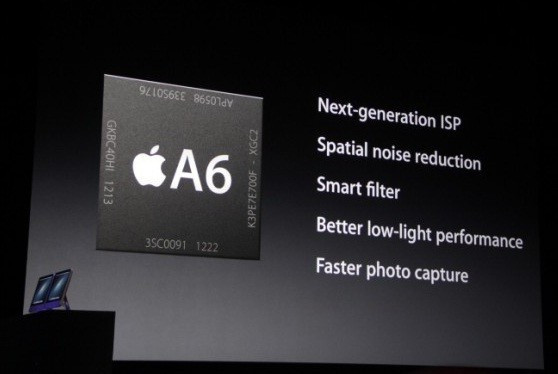 Apple unveiled its latest iPhone - the iPhone 5 - on 12 September. The Cupertino company revealed details of most of the phone's components and hardware, but left out a few details.
For example, it announced that the iPhone 5 was powered by an Apple-designed A6 chip and claimed the processor was designed to maximise performance and consume less power. In addition, it also claimed the chip possessed twice the processing power and graphics capabilities of the A5 that powers the iPhone 4S. However, Apple did not reveal the clock speed, GPU details, number of cores or RAM of the new device.
In an attempt provide some answers, analysts at Nomura Equity Research suggested the A6 processor might be a dual core Cortex-A15 Samsung-manufactured chip (using the 32nm High-K Metal Gate, or HKMG, process). If true, their report suggested that Apple would be the first company to use a Cortex-A15-based unit - the highest from ARM Holdings - something manufacturers like Samsung (Exynos 5), Nvidia (Tegra 4) and Texas Instruments (TI) have spoken about but failed to introduce in their devices. However, the Nomura analysts provided no evidence to back up their statements.
It has now been suggested, by Anand Lal Shimpi of AnandTech, that the A6 is neither a Cortex-A9 nor a Cortex-A15 from ARM Holdings but a custom-designed unit. According to the website's analysis, "The A6 is the first Apple SoC [System on a Chip] to use its own ARMv7 based processor design. The CPU core(s) aren't based on a vanilla A9 or A15 design from ARM IP, but instead are something of Apple's own creation". The analysis also selects the option of a "marginally higher clocked PowerVR SGX 543MP3" for the GPU.
Meanwhile, as far as RAM is concerned, the iPhone 4S and iPhone 4 both house RAM only of 512MB, but the iPhone 5 could have double that - 1GB of RAM - courtesy of "a dual-channel LPDDR2 package with 32-bit channels", which translates into 33 percent more memory bandwidth than the iPhone 4S.
Finally, Apple was reluctant to divulge details about the iPhone 5's battery but the device's product page does say users can expect eight hours' talk time and browsing on 3G, eight hours of browsing on LTE and 10 hours of browsing on Wi-Fi. A CNET report quotes Francis Sideco, an analyst from IHS iSuppli, as suggesting enhanced performance without compromising battery life was a result of "beefing up peripheral cores... GPUs, accelerators that are peripheral to the main core."