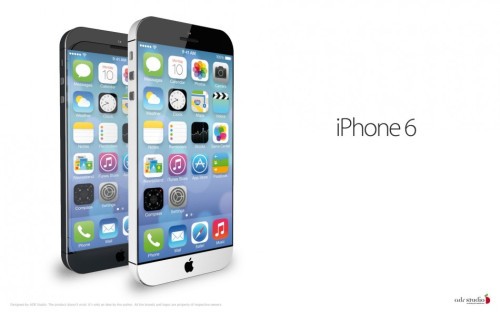 Apple will announce two new models of iPhone in the second half of this year, both larger than the current iPhone 5s but neither will feature a curved display.
Sources familiar with the situation said the new models would have screens of "larger than 4.5in" and "bigger than 5in", the latter marking Apple's debut into the so-called 'phablet' market of devices which fall between a large phone and small tablet.
Both models are expected to feature metal cases similar to that used by the current iPhone 5s, and Apple is tipped to scrap the plastic exterior used on the cheaper iPhone 5c, the sources told the Wall Street Journal.
Apple was previously thought to be developing a curved iPhone with the display arching over the device's edges, but now the sources claim such a phone will not arrive this year - despite this, the sources urged that Apple's plans are not yet final and could change before an official announcement is made.
Despite this, the sources claim the 'larger than 4.5in' model - at least half an inch bigger than the iPhone 5s - is further along in its production schedule and is being prepared for mass production, whereas the larger model is still in preliminary development.
Having previously stated the 4in screen of the iPhone 5, 5s and 5c is the perfect size as it can be used in one hand, Apple has felt sustained pressure to produce a larger phone from rivals Samsung, HTC, Nokia and Sony, all of which sell smartphones of more than 5in.
Canalys analyst Jessica Kwee told the WSJ: "Apple definitely needs a larger-screen smartphone soon, particularly to address the demand in the emerging markets." Canalyst estimates nearly a quarter of smartphones shipped worldwide in the third quarter of 2013 - some 60 million devices - had screens of 5in or larger.
Ditching the plastic, multicoloured iPhone 5c just months after it was launched in September 2013 would be a surprise, given the cross-media advertising efforts Apple put into selling the device, which is £80 cheaper than the flagship 5s, but uses much of the same hardware as 2012's iPhone 5.
Apple is yet to comment publicly on any future iPhone, but is expected to announce new models in September or October, in keeping with its release schedule of recent years.