Apple Music and its Beats One radio station are offline and inaccessible for many users, along with 11 other Apple services.
The App Store, iTunes Store, iTunes U, Apple TV and iBooksstore are among the services which are inaccessible at the time of publication on the afternoon of 21 July. British Apple Music users have told IBTimes UK how their service is not working, and we have also struggled to use Music on an iPhone 6 for most of the afternoon. We're also struggling to access the iOS App Store.
Some users complained to us about Apple Music randomly playing tracks related to previous searches, while others told us how iTunes on their computer was being slow to work.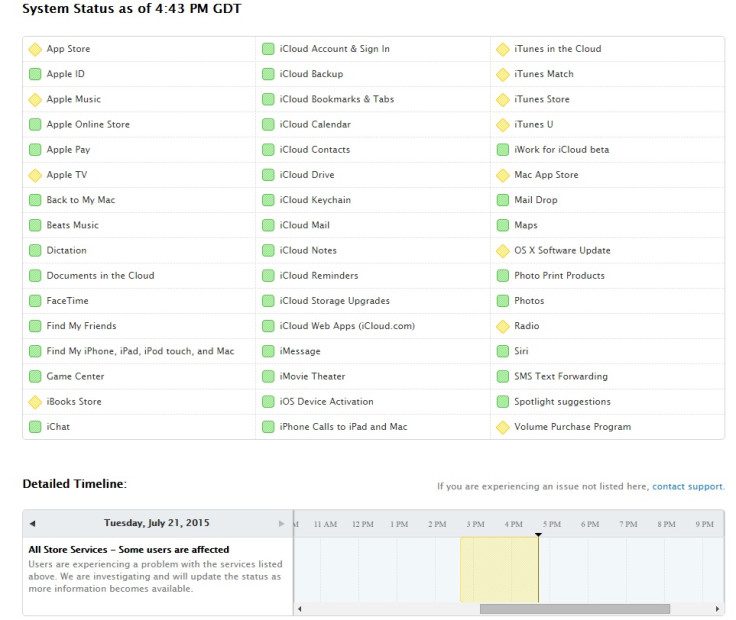 Apple has acknowledged the widespread problems on its services status page, which reports how 12 services are affected, adding: "Users are experiencing a problem with the services listed...we are investigating and will update the status as more information becomes available."
Previously known as Beats Music and acquired by Apple from founders Dr Dre and Jimmy Iovine for $3bn (£1.9bn) in 2014, Apple Music was launch earlier this month and offers a three-month free trial to all users, before charging a flat rate of £9.99 per month for unlimited music streaming.
Let us know in the comments below if you are also suffering from the outage.