The Subscriber Identity Module, better known as a SIM card, has been a vital part of mobile phone technology for over 20 years now, and this week will see a vital decision taken over its future, with Apple and Nokia set to clash over competing standards for the so-called nano-SIM.
On Thursday and Friday this week representatives from Apple and Nokia will appear at the Smart Card Platform Plenary meeting of the European Telecommunications Standards Institute (ETSI) in Sophia Antipolis (Southern France). This meeting is set to decide on what standard will be used for the "fourth form factor (4FF) UICC," better known as a nano-SIM.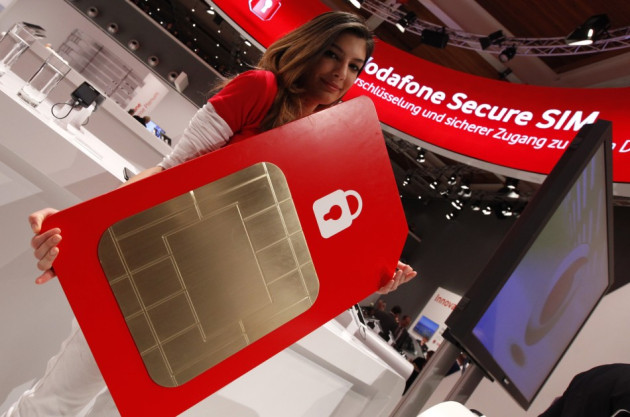 There is set to be clashes as Apple and Nokia (backed by RIM and Motorola) are promoting different standards for the new nano-SIM with both sides making arguments and counter-arguments in the last few days.
A new nano-SIM will be smaller and thinner that the current versions and will allow manufacturers like Apple and Nokia to shave a few millimetres off the profiles of their smartphones.
The standard SIM card has been around since 1991, when Munich smart-card maker Giesecke & Devrient sold the first 300 SIM cards to the Finnish wireless network operator Radiolinja. This was replaced initially by the mini-SIM and eventually by the micro-SIM which is currently in use in phones like the iPhone 4S, Nokia Lumia 800 and the Sony Xperia S.
Despite the slim size of the micro-SIM (15 x 12 x 0.76mm) mobile phone manufacturers are looking to standardise a nano-SIM for use in future mobile phones. Nano-SIM cards would be thinner and considerably smaller than current micro-SIMs - think of a SIM card with only the electrical contacts.
However there is set to be a show-down between Apple and a group of other manufacturers including Motorola, RIM and led by Nokia regarding what the standard should be ratified at the ETSI meeting this week.
Apple is proposing a design very similar to the current SIM card design but according to the Financial Times, the group led by Nokia has concerns that Apple will end up owning the patents related to the nano-SIM. However, according to patent expert, Florian Mueller, he has seen a letter sent by Apple to the ETSI which removes this concern:
"A perfectly reliable source that I can't disclose has shown me a letter dated March 19, 2012 that a senior Apple lawyer sent to ETSI. The letter addresses the primary concern of critics of the proposal... through an unequivocal commitment to grant royalty-free licenses to any Apple patents essential to nano-SIM, provided that Apple's proposal is adopted as a standard and that all other patent holders accept the same terms in accordance with the principle of reciprocity."
This would mean that Apple's proposal would be adopted universally but that no manufacturer would have to pay licencing fees to Apple to use the related patents. This is an unusual move on Apple's part, as it's a company which is known for protecting it intellectual property very strongly. However what it does show is that Apple is committed to getting a nano-SIM standard ratified as soon as possible.
Apple has been criticised in the past for being too litigious but Mueller believes the company's should be praised for this move and other companies should follow suit: "Wherever one stands on Apple's assertions of multitouch patents and other non-standard-essential intellectual property rights, Apple's attitude toward standard-essential patents sets an example that others, particularly Google, should follow."
In response to the letter sent to the ETSI by Apple, Nokia said: "For Nokia, the principal issues remain the technical superiority of our proposal and that Apple's proposal does not meet the pre-agreed ETSI requirements."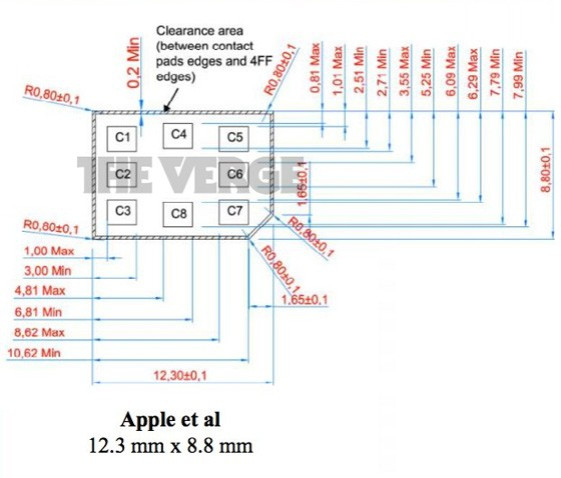 Nokia's claim of "technical superiority" has been examined by The Verge which managed to get its hands on the competing designs. As you can see from the pictures above and below, Apple's proposal is very much the more conventional choice.
It has simply shrunk the current form factor, retaining the same layout for the eight electrical contacts which the ETSI has stipulate need to be retained. This means an adapter could theoretically be used to let you use a nano-SIM with a micro-SIM or mini-SIM phone.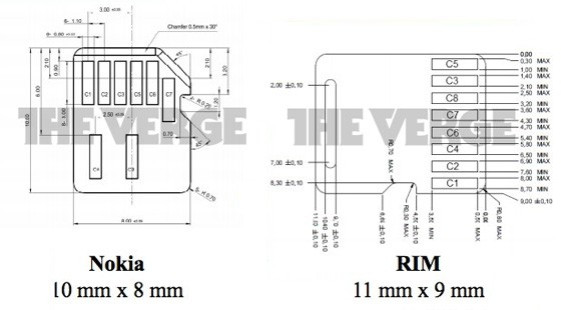 On the other side of the fence are competing designs from Nokia and RIM, which look to have more in common with a microSD card than a micro-SIM - making it virtually impossible to use an adapter for older phones. However these designs do remove the need for a SIM tray holder, and could be held in place in a slot on the side of the phone - letting manufacturers save much needed space.
Nokia also points out that Apple's proposal contravenes one of the stipulations set out by the ETSI, that the new nano-SIM cannot be inserted sideways into a micro-SIM slot and get jammed. Apple's nano-SIM design is 12mm long while a micro-SIM tray is also 12mm wide, meaning this could be a sticking point for Apple and the ETSI.
The Apple proposal has widespread support from other manufacturers as well as from European mobile networks. However Nokia believes that its promise of royalty-free licensing is not all Apple makes it out to be:
"With regard to intellectual property, we are not aware of any Apple IP which it considers essential to its nano-SIM proposal. In light of this, Apple's proposal for royalty free licensing seems no more than an attempt to devalue the intellectual property of others."
While the declaration published on the ETSI website regarding royalty-free access to essential patents only mentions one patent, Mueller says the letter he saw "makes the same commitment with respect to any Apple IPR essential to nano-SIM. No trap. No backdoor."
The plenary session will be taking place over the next two days and we will be reporting from it as it happens.