Apple is facing a tough few days as it prepares for one of the most important media events in the company's history while battling to reassure customers of its trustworthiness in the wake of the leaked celebrity images scandal.
Apple shares on Thursday dropped precipitously as analysts and investors weighed up the fallout from the iCloud security news which has been making headlines for the last five days.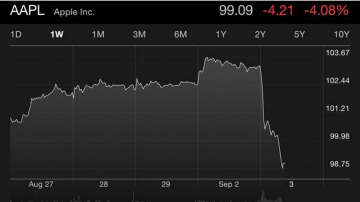 Apple's shares were down over 4% shortly after the market opened in New York on Wednesday, dropping below the $100 mark it passed for the first time (since the seven-to-one share split) on 19 August.
As well as the fallout from the negative reaction to the flaws in Apple's cloud storage service, the company suffered a further setback on Tuesday when iTunes, the App Store and iBookstore went offline for almost six hours straight - though this could have been as a result of Apple trying to fix the iCloud issue.
Last month Apple's share price rose to its highest ever level on the promise of a major product rollout in the next six months, including two new iPhone 6 models and an iWatch - all expected to launch next Tuesday.
While Apple said on Tuesday that no data breach had occurred in any of its systems, certain iCloud accounts belonging to celebrities had been compromised by "a very targeted attack on user names, passwords and security questions".
Regaining credibility
While no hackers have been able to break into Apple's systems, the fact they have been able to circumvent the security settings relatively easily has been a major blow to Apple's credibility.
It couldn't come at a worse time as Apple is set to launch a new mobile payments platform which will be used by its iPhone 6, but getting users to trust the company's cloud storage service in the wake of these leaks is going to be a struggle.
Apple is also launching a wearable fitness tracker - the iWatch - which will want to collect and store a lot of personal, health-related data about users which it will share with the new HealthKit platform in iOS 8.
In the wake of the leaked celebrity images earlier this week, it will be more difficult than ever for Apple to convince customers that putting personal information about their health and fitness into iCloud is safe and secure.
Whatever about launching phones to challenge Samsung and Sony, at next Tuesday's event in Cupertino, Apple's CEO Tim Cook will need to convince the public to trust Apple all over again if he is to prevent a major slump in share price.