Apple Tree Yard had the nation hanging on the edge of their seats with Sunday night's penultimate episode of the nailbiting series, but viewers will find out what happens to scientist Yvonne Carmichael in tonight's (6 February) offering.
Adapted from Louise Doughty's thriller novel, TV maker Amanda Coe has brought the creepiness to life in the hit BBC1 four-parter, and we'll finally see what happens in the murder trial involving the scientist and her mysterious lover, Mark Costley.
Emily Watson and Ben Chaplin haven't failed to impress in their leading acting roles, with the latest episode seeing their characters go from lovers to strangers once again as they are separated following their arrest of George Selway's murder – the man who violently raped Carmichael at a work party.
It all went badly wrong when Costley entered Selway's property – with Carmichael anxiously waiting in a car outside – and killed him by beating him to death. When he later returned to the vehicle, he failed to tell his lover that he had committed murder. Instead, he just told her to "Drive!"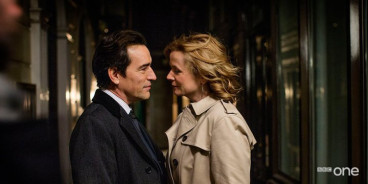 Now, the pair have found themselves in a right pickle as they're both facing jail. It's been a public and humiliating laceration for Carmichael as her lustful dalliance quickly turned into a murderous disaster, and as she stands in the dock, her flaws and vulnerabilities are laid to bare.
And judging from the vibe of last night's episode, no one is truly on her side. Not even her own family, who all seem overly disturbed about the middle-aged mother's secret life.
In the last episode, Carmichael sticks firmly to her story when she finally takes the stand. When she discusses the rape, her evident distress and authenticity of her account result in sympathy from the jury. Costley, however, claims he has a personality disorder, but the prosecution rips his theory apart and his defence lies in tatters.
There are also flashbacks to stolen moments between ephemeral lovers Carmichael and Costley, as we continue to discover who he really is under his several layers of mystery.
Apple Tree Yard concludes tonight at 9pm on BBC1.