It is being widely reported Friday morning that Apple's iCloud and iTunes services are suffering a network outage, with users complaining that they cannot log in.
Apple recently launched iCloud as an online storage and backup solution for Mac, PC and iOS users, but on Friday many users were given an error message when they tried to log in.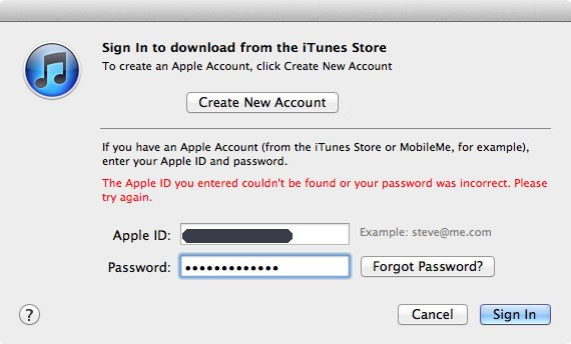 When trying to log in, iTunes returns the error message: "The Apple ID you entered couldn't be found or your password was incorrect. Please try again."
Users have voiced their complaints on Twitter, where it is apparent that customers from all over the world are being affected by the outage.
Reports suggest that it is Apple's authentication system that is down, preventing users from being able to log in to any service using their Apple ID. Services affected include Apple's developers' Web sites and forums, iTunes and iCloud.
At the International Business Times UK we have been able to back up our iPhone 4S, but we were already logged into our Apple account. We suggest that users of iOS devices stay logged in and do not attempt to log out and back in again until the problem has been resolved.
The problem comes on the same day that iTunes Match became available outside of America for the first time, so the increased strain on the Apple servers may be responsible for the outage.
MacRumors is reporting that trying to change your Apple ID password results in a "fatal internal error" message.
Australian MacRumors user 'burtba' said: "I just came to report the same thing. Just signed up to iTunes match, got 1/2 way through checking my library and had to log back in and got this error in the title. I guess their servers are getting a hammering with iTunes Match up and running in so many countries at the same time."