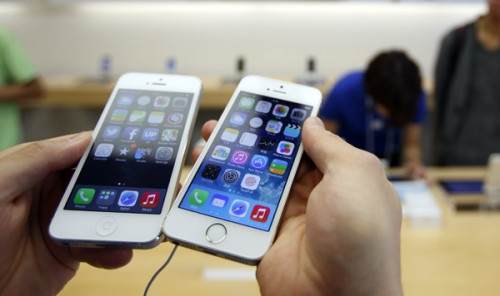 Apple has confirmed that it is working to fix an issue with the latest version of it iPhone operaitng syste, (iOS 7) which has seen smartphone screens go black or white.
The bug, which randomly causes the iPhone to reboot, was first spotted by users on Apple's discussion forums in September 2013 just after it launched together with the iPhone 5s and 5c. After this, complaints soon began appearing on Twitter:
In a statement to Mashable, Apple spokesperson Trudy Muller said: "We have a fix in an upcoming software update for a bug that can occasionally cause a home screen crash."
According to users reports, the home screen crashes and restarts the iPhone once the smartphone's battery falls below the 30% mark, and the colour of the "Screen of Death" depends on what colour your iPhone is – a white iPhone will receive a white screen with the Apple logo in black, while a black iPhone will receive the same in reverse.
The next update of Apple's latest mobile operating system, iOS 7.1, is currently in its fourth version of beta-testing with developers, and the rumour is that the "Screen of Death" fix will be included in this update, together with some minor UI and design modifications.
While Apple's iPads are also running iOS 7, there have been no reports that the company's tablets are being affected by the 'screen of death' issue.