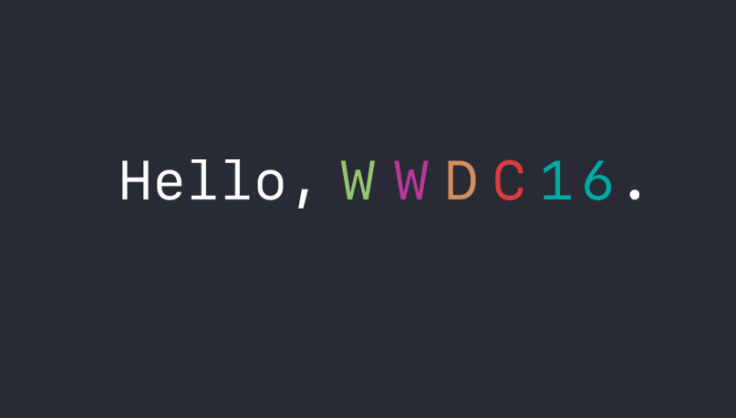 Apple's annual Worldwide Developer Conference (WWDC) is kicking off on 13 June in San Francisco 10am PDT (6pm BST) with an opening keynote set to unveil to the world its latest software for its Mac, iPhone and Apple Watch.
IBTimes UK will be covering the event live, reporting all the big news to come out from the Bill Graham Civic Auditorium but for those not in attendance you'll be happy to know you can tune in too. Apple will be live streaming the event via its own link.
However, Apple is continuing its annoying trend of only making it available largely through its own software due to the fact it's streaming over its own live streaming HLS protocol technology.
WWDC 2016: How to watch on Mac
You can access the video live stream link by clicking here. Until the event kicks off you'll be met with a holding page that says 'Hello, WWDC16' and as mentioned for an Apple event you'll have to be using its own Safari browser if you're tuning in on desktop. Users will also be required to be running OS X 10.8.5 or later.
WWDC 2016: How to watch on iPhone, iPad, iPod Touch
You are able to watch the live stream on other Apple devices such as an iPhone, iPad, iPod Touch and Apple TV but you will need to go through Safari also and be on iOS 7.0 or later.
WWDC 2016: How to Watch on Apple TV
Choosing to watch the WWDC keynote on Apple TV is a great choice for someone who wants to enjoy it on the big screen. Again, going to the link via Safari is your way in, however if you're still using the first generation version of the device it won't work. You'll need 2nd or 3rd generation with software 6.2 or later, or simply use the latest 4th generation device.
WWDC 2016: How to watch on PC
Just because you're using a PC doesn't mean you'll miss out on the fun. You can tune in if you're operating Windows 10 and have Microsoft Edge installed.
Running from 13 – 17 June the event is historically known for showcasing the latest updates to iOS, tvOS and OS X, with Watch OS also in more recent years. Following the keynote which will give a glossy overview for the mainstream audience things get a little geekier with sessions and labs being held to discuss the latest technical developments for Apple software.
WWDC 2016: What time will the keynote start?
Apple claims the big event will begin at 10am PDT (Pacific Daylight Time), which is great if you're living in the US. Here's some other times around the world:
WWDC 2016: What will be announced?
IBTimes UK has taken a look in our crystal ball to predict what to expect at the upcoming event. We expect iOS to be the headline act this year with the newest operating system for its iDevices bringing some blockbuster new features including a potential brand new look. Recent reports have indicated Apple may be introducing iMessages for Android while elsewhere expect a new WatchOS and a few developments with it's in-car entertainment software CarPlay.
For hardware announcements it can be a bit of pot luck. It's unlikely we'll see anything ground-shaking, if anything at all, certainly not a new iPhone or Apple Watch, but if we're to see anything there may be possibly a few new MacBooks teased at the event.