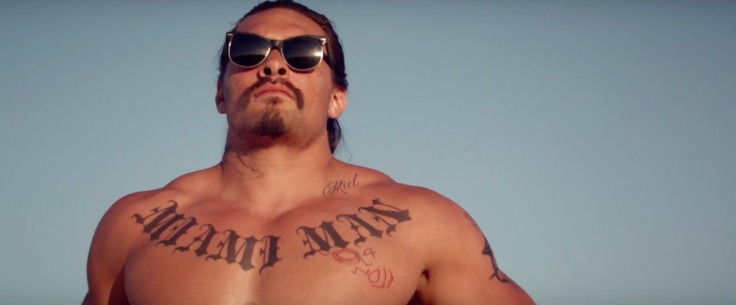 Much before his Aquaman premiere, Jason Momoa is coming to the big screen as the Miami Man for his upcoming film The Bad Batch. The actor flaunts his body in the recently released trailer of the film, which is set in a post-apocalyptic dystopian world.
The film revolves around the romance between Momoa's Miami Man and Arlen (Suki Waterhouse). Both are stuck in a cruel world swarmed by cannibals, cult members and other unruly people.
The 37-year-old Game of Throne actor remains shirtless in the entire trailer as he rocks waist-high trousers and bare chest tattooed with 'Miami Man'. His has a leather machete pouch crossing his left shoulder. In the gritty film, his character along with Arlen struggle for their survival in the wastelands of Texas away from the civilized society.
The film also stars Keanu Reeves as The Dream, a cult leader, who poses threat to the film's protagonists. The action hero, popular for his roles in the highly successful film franchises including Matrix and John Wick, will play a character that promises to explore the Reeves' acting skills.
Produced by Annapurna Pictures and VICE Media's Danny Gabai and Sina Sayyah and directed by Ana Lily Amirpour, the film will premiere on 23 June 2017.
The official synopsis of the film reads: The highly anticipated follow-up to Amirpour's acclaimed directorial debut, A Girl Walks Home Alone At Night, The Bad Batch follows Arlen (Waterhouse) as she is unceremoniously dumped in a Texas wasteland fenced off from civilized society. While trying to orient her unforgiving environment, she is captured by a savage band of cannibals and quickly realizes she'll have to fight her way through her new reality. As Arlen adjusts to life in 'the bad batch' she discovers that being good or bad mostly depends on who you're standing next to.