Hundreds of people have protested outside Argentina's congress amid fears of censorship and media monopoly. Protesters gathered in Buenos Aires on 17 December to demand the new president, Mauricio Macri, and his government reconsider proposed reforms that could lead to private organisations taking control of the country's mass media.
They say they are worried about censorship in Argentina if the anti-monopoly laws are loosened or repealed, and demanded that the president keeps the rules against market concentration.
Martin Sabetella, director of the Federal Authority of Audiovisual Communication Services (AFSCA) watchdog – which is in charge of enforcing the legislation – said: "We have come here to defend the audiovisual communications law, which is a tool to ensure freedom of expression, a plurality of voices, to guarantee a deep democracy that is enriched by all voices.
"There is no true democracy without a democracy that's true to its word. And there is no democracy true to its word if the drive of companies is not limited, which harms the freedom of expression. We have come to also confront what is happening. And that is an attempt to violate the laws and the constitution which advances the rights we've gained."
The law was first passed by former president Cristina Fernandez in 2009. It restricts the number of TV, cable and radio licences a company can hold at one time.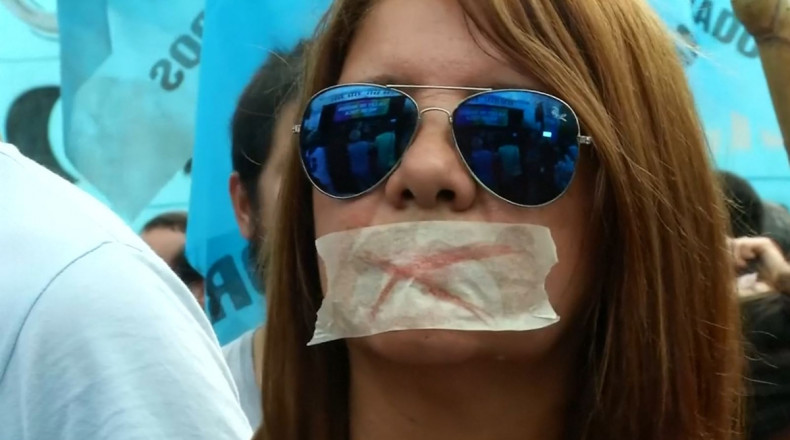 Some in Argentina, including the biggest media outlet Clarin, oppose the law, saying it is unconstitutional as it forces companies to sell previously owned outlets. But others believe it is vital to the freedom of expression in the country.
Jorge Taiana, a former foreign minister from Fernandez's Justicialist Party, said: "We feel that we have to defend some major achievements that have been accomplished over the years, like those that are related to liberty, democracy and pluralism. We feel this is all being threatened.
"A clear example of this is the media law. They have evidently said in various ways they are not going to renew it, and for us it's a very important element of the democratic advances of these past few years."
Macri was elected after vowing to revamp the country's economy and reform a number of laws. The law has previously been upheld by the Argentine Supreme Court.