Ark Park will let you walk with dinosaurs on PlayStation VR, Oculus Rift and HTC Vive in 2017
Players will be able to get virtually up close and personal with over 100 various dinosaurs and creatures.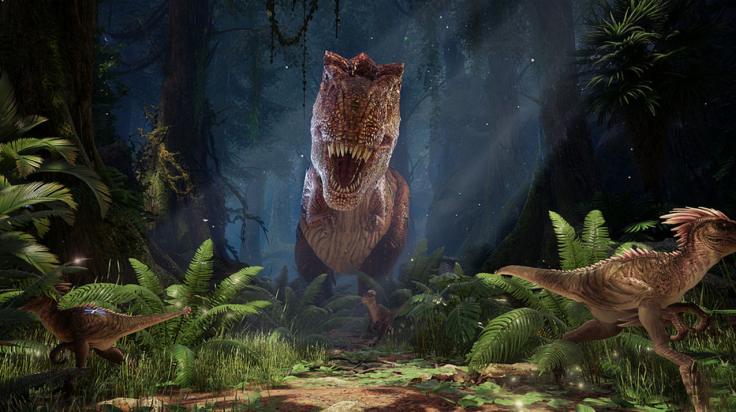 Developer Snail Games has announced a new virtual reality experience based on the open world dinosaur game Ark: Survival Evolved is coming to VR devices in 2017. The new game called Ark Park will allow players to virtually visit and interact with more than 100 various dinosaurs and other extinct creatures in a Jurassic Park-esque world.
"Ark Park is a virtual reality experience like no other, allowing players to get up close and personal with dinosaurs and also the immersive primal environments," Snail Games executive producer Sky Wu wrote in a PlayStation blog post. "Explore tropical rainforests, snow-covered mountains, and expansive plains, along with the dinosaurs that call these habitats home."
In Ark Park, visitors can venture out on "Excursions" to explore various biomes and get up close with different dinosaurs. To make your way through these Excursions, you can explore on foot, ride a vehicle or even ride a dinosaur. Visitors can also collect "Gene Cubes" from the dinosaurs and other extinct creatures they encounter throughout the habitat using ARK tools, lures and weapons to add new to add new species to their in-game library.
By uploading these Gene Cubes to Ark Park's Hub world, players can view details about the creature. You can also upload the Gene Cubes to the Hub's Petting Zoo to let you pet and feed the creatures as well as customize them.
Wu says that collecting all of the majestic ARK creatures will prove to be challenging "due to the reclusive habits of particular dinosaurs."
"Determined visitors will need to use a combination of puzzle-solving logic, action skills, exploration and careful resource management to bag the most prized animals," Wu notes. "For visitors who would rather capture memories, Ark Park will also include a Snap mode where you can photograph these wondrous creatures for extra points." Players can also whip out a selfie stick for bonus points as well.
Ark Park is also tied in to Ark: Survival Evolved and the paid expansion pack Ark: Scorched Earth to let players bring creatures from those games to Ark Park's Petting zoo as well.
Earlier this month, an in-development version of Ark: Survival Evolved launched on PS4 through the $55 Ark: Survivor's Pack that includes the base game and the Scorched Earth expansion pack. In-development versions of the game are also currently available for Xbox One and PC as well.
Developed by Snail Games' Peacock Studio, with creative input from Studio Wildcard, Ark Park is set to release for HTC Vive, Oculus Rift and PlayStation VR in 2017.
© Copyright IBTimes 2023. All rights reserved.