Convicted murderers Jack Jones and Marcel Williams were administered lethal injections on Monday (24 April), which was the first double execution in the US since 2000. The duo were executed three hours apart, with the first taking place shortly after 7pm local time (1am BST on 25 April).
The double execution comes after weeks of legal battle that resulted in four of the eight scheduled capital punishments being called off. One convict was executed last week, while the fourth is scheduled to be executed on Thursday (27 April).
Jones, 52, was reportedly the first to be executed on Monday and was pronounced dead at 7.20pm. Williams' attorneys claimed that Jones was "moving his lips and gulping for air", convincing the federal judge to stay their client's execution. However, the state's attorney general denied the claim and an hour later, following which Williams was administered midazolam – the lethal injection. He was pronounced dead at 10.33pm.
An Associated Press reporter who was present during the execution said that Jones moved his lips briefly after he was administered the injection and officials put a tongue depressor in his mouth intermittently for the first few minutes. His chest stopped moving two minutes later.
Jones was handed the death penalty for the 1995 rape and killing of Mary Phillips, whom he strangled with a cord of a coffee pot. He was also convicted of attempting to kill Phillips' 11-year-old daughter and was found guilty of another rape and killing in Florida.
Williams, 46, was convicted of the 1994 abduction, rape and killing of 22-year-old Stacy Errickson. He was also accused of abducting and raping two other women earlier.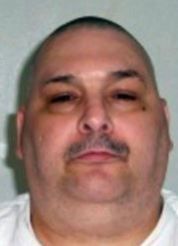 Both the death row inmates were served their last meals on Monday afternoon, Arkansas Department of Correction spokesman Solomon Graves told the news agency.
Jones ate fried chicken, potato logs with tartar sauce, beef jerky bites, three candy bars, a chocolate milkshake and fruit punch. Williams had fried chicken, banana pudding, nachos, two sodas and potato logs with ketchup, Graves added.
In August 2000, Texas had executed two convicted murderers on the same day, which was the last time a double execution was carried out in the country. Oklahoma had planned a double execution in 2014, but did not carry out the second one as the first execution went awry.
Arkansas Governor Asa Hutchinson had scheduled four double executions over an 11-day period in April as authorities wanted the executions to take place before a batch of one lethal injection drug expired on 30 April. However, four executions were blocked.