On Friday night, in an apartment in the Mexican coastal resort of Mazatlan, the world's most notorious drugs baron, Joaquin "El Chapo" Guzman, was arrested after more than a decade on the run.
After breaking out of high security jail hidden in a laundry basket in 2001, Guzman built the Sinaloa Cartel into one of the world's most powerful crime organisations, its tentacles reaching from its mountainous heartland in north-western Mexico, into North America, Europe, and even as far as Australia.
In the process, Guzman was named one of the world's most powerful men by Forbes magazine, with a fortune estimated at approximately $1billion. He became almost a figure of legend: folk songs were composed in his honour, and his contacts reportedly extended to the top tiers of the political classes and security services.
He is believed to have orchestrated the wars with rival cartels over lucrative drug smuggling routes into the US that have transformed areas of Mexico into a war zone, leaving more than 80,000 dead since 2007.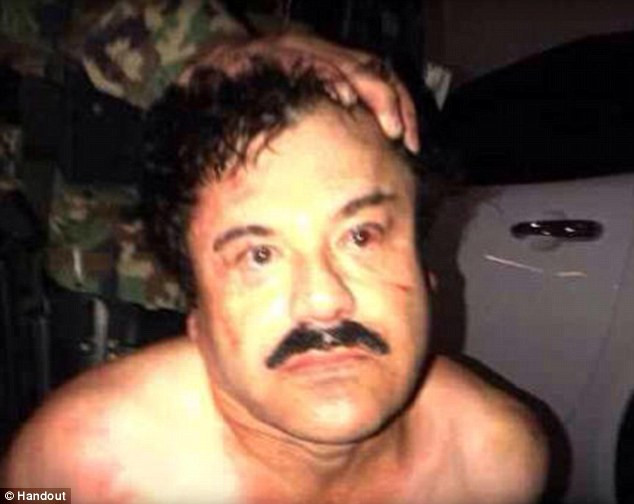 In recent years, Guzman is believed to have narrowly evaded capture several times, once by reportedly dashing into a storm drain.
Last week, a raid by DEA assisted Mexican agents on a house in Culiacan uncovered a network of houses, connected by underground tunnels, which police believe Guzman used to evade capture.
He was tracked to the beach resort, where he was captured without a shot being fired, after two teams of marines overpowered his security teams.
A total of 97 large guns, 36 handguns, two grenade launchers, a rocket launcher and 43 vehicles, several of them armoured, were seized in the raid.
After being captured, Guzman was displayed to the media, cuffed and flanked by balaclava-clad Mexican marines. He was then taken by helicopter to a high-security prison facility.
"He got tired of living up in the mountains and not being able to enjoy the comforts of his wealth,"
Michael S Vigil, a former senior DEA official who was briefed on the operation, said.