The Flash and Arrow crossover lived up to fans' expectations and produced one of the finest moments of TV shows. Both shows recorded an all-time high because of the super-hero factor.
Watch Flash vs Arrow online: Oliver and Barry fight in the part 1 crossover episode
After the hit two-show crossover, fans are wondering if they will get a three-show crossover next year involving the Flash, Arrow and Gotham.
According to a report in Movie Pilot, there is a possibility of that happening as all the three shows are from the DC Comics universe.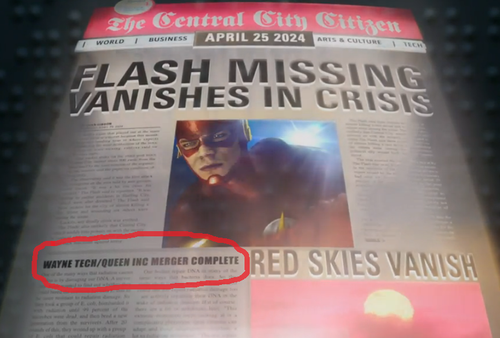 The report adds "Wayne Tech/ Queen INC Merger Complete".
Will Bruce Wayne make an appearance, and how? Since all the shows will have to come together, Wayne is still a kid now and Flash and Arrow are already adults and of course the "Queen Inc" should actually be Queen Consolidated or the newer one Palmer Technologies.
Arrow/Flash Crossover Part 2 online: Oliver and Barry fight the boomerang in 'The Brave and the Bold'
There are several loopholes, but all can be explained through time travel which is set to be introduced in the Flash Season 1.
"It looks like it takes place in the 90's so how is the crossover going to happen or could Arrow ask the Flash for help to travel back in time?" wonders the website.
During a recent interview, actor Stephen Amell, who plays Arrow/Oliver Queen, spoke about treating fans to more such crossovers.
Amell is reportedly open to the prospect of Arrow appearing on other DC Comics-based shows like Gotham (Fox) or Constantine (NBC).
Amell told USA Today: "I know the logistics are challenging and the politics are above my pay grade, but in the interest of putting the best product forth for the fans, I don't think we should limit ourselves to Flash and Arrow crossing over because we're both on the CW."
"If you're owned by Warner Bros, or if you're just in the DC Universe, everything should be in play."
Do you want to see a Gotham, the Flash and Arrow crossover? Let us know in the comments section below.