Arrow mid-season finale promised viewers "the finest hour of television this show has ever produced" and it delivered.
Last Wednesday's episode titled The Climb left the viewers with a major question: Is Oliver Queen dead?
The fight between Oliver and Ra's Al Ghul begins at the top of Nanda Parbat, which was seemingly similar to a Batman Begins sequence.
The Assassins leader delivers a final strike running his sword through Oliver's rib cage, and pushes the Green Arrow over the cliff. In the last scene Oliver is seen falling off the cliff, and the episode ends on a cliffhanger.
Arrow season 3 mid-season finale review: Sara Lance's killer revealed; is Oliver Queen dead?
Stephan Amell, who plays Oliver, took to Twitter, and posted a cryptic tweet, further confirming his character's demise.
It was a good run.

— Stephen Amell (@amellywood) December 11, 2014
Fans of the hit CW series freaked out after witnessing the end moments, and lashed out on Twitter.
#ArrowMidSeasonFinale @CW_Arrow the nightmare moment!! pic.twitter.com/0zcvBqL5pm

— gaga (@gagani_n) December 12, 2014
When Felicity finds out Oliver is dead... NOOOOOOOOOOOOO.... Just NO. *ugly crying* #Olicity #ArrowMidSeasonFinale — 1forall0allfor1 (@1forall0allfor1) December 11, 2014
WHAT THE HELL??? WHAT KIND...I don't... that's not....you can't kill Oliver, you can't!! I...what just happened??? #ArrowMidSeasonFinale

— Alicia Prevost (@GraveDancer40) December 11, 2014
I need an explanation. NOW. ...and a hug. #ArrowMidSeasonFinale — Andrés Elvira (@andreselvira) December 12, 2014
#ArrowMidSeasonFinale Still in shock!!! This isnt happening!!

— Aneesh Bhat (@visionofaneesh) December 12, 2014
I will never forget Oliver's final thought. Nope. Never. *sobs* #ArrowMidSeasonFinale #Olicity — Smoak & Arrow (@SmoaknArrow) December 11, 2014
But there is good news for Arrow fans.
Oliver Queen is alive as Lazarus Pit will be introduced when the series returns in January.
Comicbook website speculates that Oliver may survive the deadly blow because of Lazarus Pit.
According to the website "Lazarus Pits are a naturally-occurring phenomenon in the DC Universe; think of it as a natural spring with restorative powers... very restorative. They can help cure and heal those at death's door, or keep a healthy person young seemingly indefinitely."
"I think there's a way to do it," executive producer Marc Guggenheim told the website about the Lazarus Pit.
"That's not necessarily to say that we will do it but yes, I think there's a way to do it that's in keeping with the show, but that's a far cry from me saying 'Yes, we're going to do it'," Guggenheim concluded.
Screen Rant reported that Oliver is alive, as the last blow by Ra's Al Ghul was to his rib cage, not heart, thus it wasn't fatal.
"Since the injury inflicted by Ra's al Ghul is... serious, to say the least. True, it clearly misses Oliver's heart."
The website also said that maybe the Assassins leader never intended to kill him
"But this is Ra's Al Ghul we're talking about: if he wanted to kill Oliver Queen – which he did – then he's not the kind of man who fails to strike a killing blow," the website wrote.
What to expect when the series returns in January
The first promo for the January episode titled Left Behind teases that a member of the League may seek out Oliver's corpse (as he is presumed dead).
The promo also shows Arrow's body down the cliff, and a voice over says, "Oliver Queen is dead."
Oliver is presumed dead, just as Ray Palmer (Brandon Routh) takes his biggest step towards a crime-fighting crusade of his own. He asks Felicity to help him make an Atom costume which will help him fight evil in Starling City.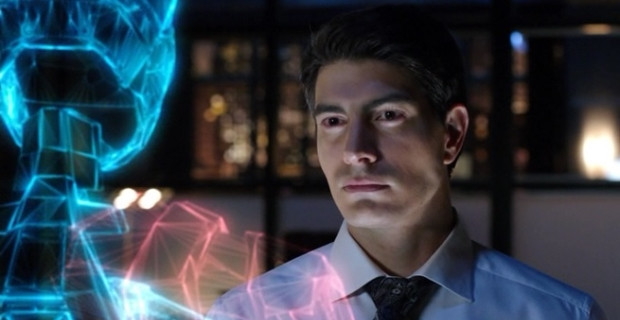 Producer Marc Guggenheim previewed that Ray Palmer's character will have a major role in Arrow's mid-season premiere.
He told comicbook: "Certainly the mid-season finale sets up the back half of the year, as it typically does with us. If you look at seasons past there's been a shift between episodes one through nine versus episodes ten through twenty-three."
He continued, "And whenever you have a shift, certainly with a cast of characters or an ensemble as large as we have, different people come to the fore. I think that you'll see there's some very big stuff coming up for Brandon Routh's character as well as some very big stuff for Malcolm Merlyn."
So, when the series premieres in January, we might get a glimpse of Ray in an Atom suit saving the city, till the Green Arrow returns.
The mid-season premiere (episode 10), Left Behind, is set for a January 21st, 2015 air date.
Watch the promo here: