Arrow returns with season 5 on Wednesday, 5 October on The CW Network. The fifth season will add a new vigilante to its cast, who will help Oliver Queen and Felicity Smoak clean-up Starling City after the ordeal of the season 4 finale.

Season 4 ended with Oliver, Felicity, and the team defeating Damien Darkh, and saving the city from Nuclear missiles. Also, John Diggle and Thea Queen decided to hang up their vigilante suit and Oliver queen swore in as the mayor of Starling City.
Here are a few things to expect in Arrow season 5:
1. Oliver Queen is getting a new ally in season 5. Chicago PD actor Josh Segarra as been cast as a series regular in season 5. He will play Adrian Chase, Star City's new district attorney and an ally of Mayor Oliver Queen, who "aims to clean up the streets through the legal system".
2. Actor Stephen Amell teased that the show will go back to its roots in season 5. He said, "There's no new person or new show to introduce this year, and I think as a result of that, we need to get back to focusing more on some of the core elements that used to define Arrow."
"To me, that's hand-to-hand combat, no superpowers, and dealing with the job of cleaning up Star City," he added.
3. The CW has released a short plot detail for season 5, teasing that someone from Oliver's past will return to threaten his legacy. "Sinister players with a connection to Oliver's past will push the team to its breaking point, threatening everything Oliver's worked for and his legacy as the Green Arrow," teased the network.
4. The upcoming season may feature more flashbacks and will explain how Oliver got the Bratva tattoo. Showrunner Wendy Mericle told TV Line, "I don't want to tip too much, but it's a very good possibility that we'll finally find out how Oliver got that Bratva tattoo and how he learned to speak Russian."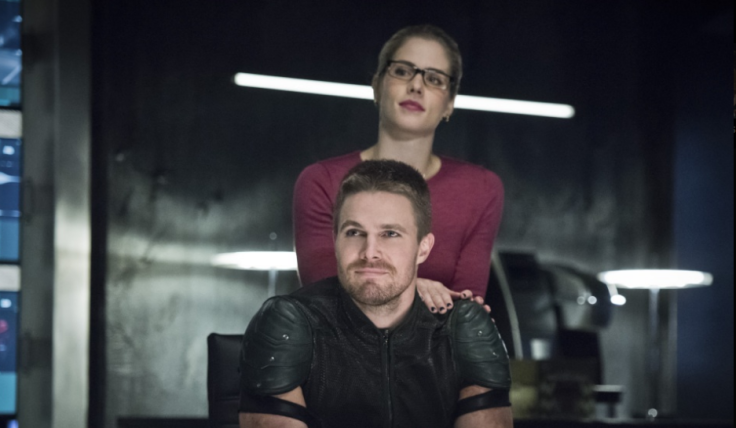 5. Oliver and Felicity may have broken up in season 4, there is a strong possibility for them to reunite in season 5. Given that they are the only two members remaining in the Arrow team, fans can expect certain romantic moments between the two, and sort of a reconciliation. The couple broke up in episode 16 of Arrow season 4, as Felicity pointed out that Oliver will always isolate himself and that they will never work together as a couple.