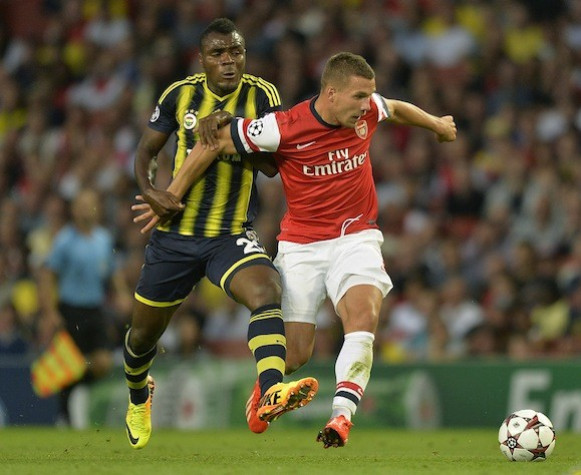 Arsene Wenger has confirmed that Lukas Podolski will return to training with Arsenal after the Premier League game against Hull City as the forward continues his full return from a hamstring injury.
Podolski has been out of action since the end of August and his absence has been felt by Wenger, who has had particularly limited options up front with Olivier Giroud shouldering much of the pressure to produce goals.
The French striker has shone for the Gunners this season but should he become injured Wenger won't have much back up with Nicklas Bendtner making it clear he wants to leave the club in January.
But the manager has confirmed that Podolski could make a comeback for Arsenal against Manchester City on 14 December in what will be a huge injury boost for the side.
"Lukas Podolski should be back in normal training after the Hull game," Wenger told reporters. "He will then be available, but he lacks match fitness. It will take at least a week with normal training to consider him fit for the squad."
Wenger also gave an update on Bacary Sagna's injury with the defender set to be out for one game while Carl Jenkinson comes in as his replacement.
"I believe we will lose Sagna, who has a slight hamstring problem and he should be out for tomorrow's game," the manager revealed. "You expect when you play so many games with that much intensity that you will lose one or two players. We have so many games that I always knew I'd have to make changes. Full-back is a demanding position."
Arsenal face Hull on Wednesday and while the north London side will be hoping to take maximum points they are aware that the Premier League newcomers are coming off the back of a confidence-boosting win against Liverpool.