Arsenal manager Arsene Wenger is confident that his side can challenge for the Premier League title after an impressive 6-1 win over Southampton at the Emirates.
After losing instrumental players Robin van Persie and Alex Song in the summer, Arsenal have responded well and have conceded just one goal I their opening four Premier League games.
Having picked up their first win against Liverpool, the Gunners continued their superb form as they showed little mercy to newly-promoted Southampton.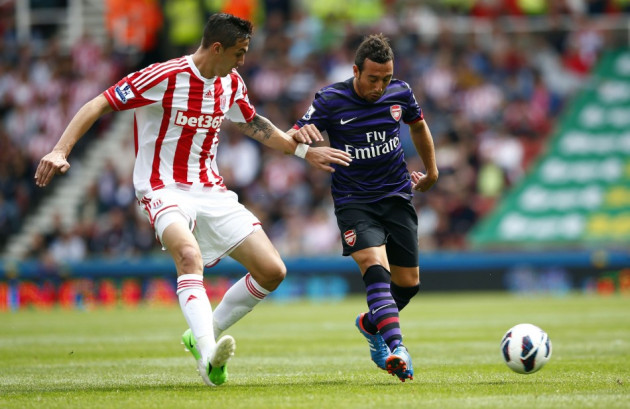 New signings Santi Cazorla and Lukas Podolski continued to impress, and Wenger feels as though he has a squad which is capable of once again challenging for major honours.
"We have a chance for the title but first we must show consistency," Wenger told the BBC. "We have the quality to do it but we have to show how much we want it."
Arsenal have not win the league title since 2004 and last season finished 19 points behind eventual champions Manchester City.
At this very early stage of the season they are just two points behind leaders Chelsea and will look to make a major statement next weekend when they play Manchester City at the Etihad.
"We have a big week coming up because we go on Tuesday now to Montpellier in the Champions League and then on Sunday we play at Man City - and we have two interesting weeks coming up because we play Chelsea as well," said Wenger.
"We will know more about our team then but there is a positive energy in this team, a desire to play well together, and real team play. It is very exciting."
There was also special praise from Wenger for Cazorla, who has instantly taken to life in the Premier League. The French boss even admitted that he had tried to sign the Spaniard in the summer of 2011 when he decided to leave Villarreal.
"When you love football, you love to watch players like Santi Cazorla," admitted Wenger. "His attitude is first-rate and he is technically brilliant. You can see already that he is at the middle of everything.
"When we move like that around him we become very enjoyable to watch.
"Cazorla is a player who is just a pleasure to watch. You want him to have the ball. He typifies what Spain's midfielders are today - he is technically perfect, he has great vision and a great team attitude.
"We did fight with Malaga at the time [to get him last summer] and they were in Spain, they were quick to do the deal. But we remained on the ball - we were quite advanced with him last season."