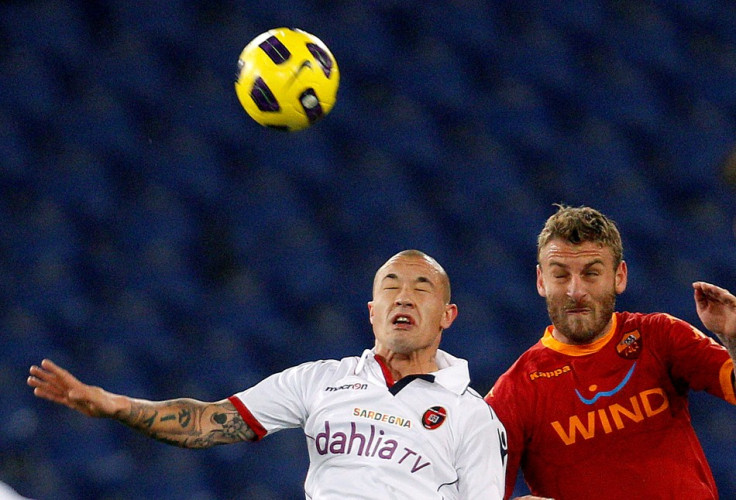 Daniele De Rossi has moved to reassure fans over his future, insisting that even though a new contract hasn't been signed yet with Roma, he is not concerned with talks going down to the wire.
The Italy international has made over 250 appearances for the Serie A giants, and has spent almost his entire footballing career with the club.
And while Arsenal and Chelsea have shown interest, with Chelsea in particular having a €70 million bid turned down last summer, De Rossi insists that he is thinking about taking over the captaincy at Roma as he discusses a new contract with the side.
"Future captain? I cannot see myself being labelled this, but there is a precise explanation - once the current captain stops playing then I will take the armband," De Rossi told Radio 2 Rai.
De Rossi also maintained that even though a new deal at the club hasn't been agreed to, he isn't worried. The Italian told added: "The renewal [of the contract]? Well, the heart is there for it to beat fast."
De Rossi did give some hint of leaving Roma though, admitting that he dreams of playing in Europe's highest tournament.
"Will we win this year? I am afraid not, but everyone dreams of playing in the Champions League or winning the Scudetto [Italian title]," he said.
Arsenal have claimed that they aren't in the market for new players in the January transfer window, but the side will need to bolster if they are still well outside of the top four at the turn of the year.
The Gunners need Champions League revenue to continue to draw a profit, and even though Roma have insisted that they won't sell De Rossi for any price, if he does start looking elsewhere, Arsenal will no doubt be interested.
But Chelsea can't be discounted from the race just yet, with both of the London clubs monitoring the midfielder's situation as contract talks continue.
Roberto Mancini also admitted that Manchester City had shown interest in De Rossi, but the side are well aware of his desires to stay in Italy and Roma. De Rossi was born in Rome, and the star has always maintained that he is happy to outlast his career in the town.