Chelsea are hoping that they will be able to steal Fiorentina striker Stevan Jovetic from under the noses of London rivals Arsenal by making a substantial bid in the coming weeks.
Arsenal have long been linked with the Montenegro international but reports yesterday suggested that Arsene Wenger was unwilling to bid the £25m that Fiorentina are demanding for the highly rated forward.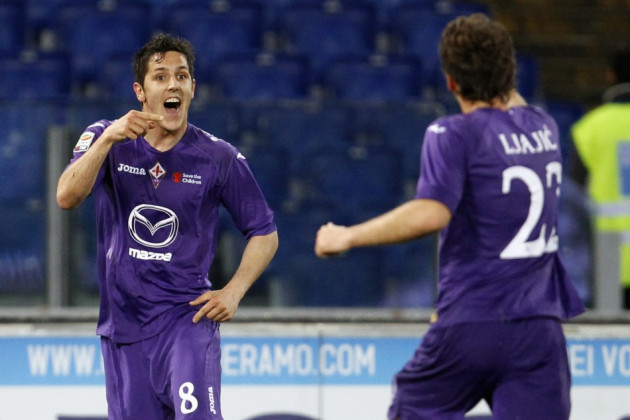 The Express reports that Chelsea are indeed willing to match that figure and once they confirm Jose Mourinho as their new manager, they will look to put in an official bid for Jovetic.
Chelsea had been linked with Radamel Falcao throughout the season but the Colombian completed his move from Atletico Madrid to Monaco yesterday in a deal worth £51m. Another possible target was Napoli forward Edinson Cavani but he has reportedly been deemed too expensive as he would also cost in excess of £50m.
The Blues are short up front as Fernando Torres once again struggled to fire in the Premier League, while Demba Ba is still to find his feet after his move from Newcastle in January.
With Manchester United boasting four world class strikers in their ranks, it is expected that Chelsea will look to bolster their options and it seems as though Jovetic has emerged as their top target.
Jovetic has scored 12 league goals this season as Fiorentina secured a fourth placed finish but it was believed he would be interested in a move to Arsenal in order to test himself in the Premier League.
"There is some interest from the Premier League and my representatives are looking at the offers now. I would be keen for a move to London at some point in the future," Jovetic told reporters earlier this month.
Both Chelsea and Arsenal would be able to offer Jovetic the chance to play in the Champions League but it may well come down to who is prepared to meet the demands of Fiorentina and stump up the asking fee.