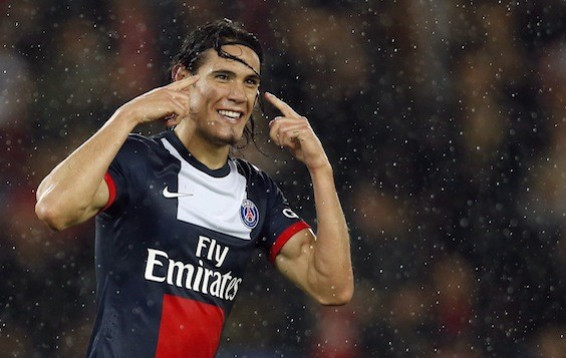 Arsenal and Chelsea are among six clubs monitoring Edinson Cavani's situation as the striker becomes frustrated at being pushed out of the spotlight by Zlatan Ibrahimovich at Paris Saint Germain.
Cavani has been on fire for PSG this season, scoring 11 goals in 15 appearances for the side so far. But Ibrahimovich has been taking plaudits across the world for his performances while the Uruguay international is not mentioned as often by both the domestic and international press.
And French publication Le10Sport are reporting that Cavani is now considering leaving PSG for a club where he can be the standout star in the next summer, with Arsenal and Chelsea both closely watching the situation.
While the Gunners are currently flying in the Premier League the side only have one in-form striker in Olivier Giroud. Should Cavani make the move to the Emirates it would likely be met with as much fanfare as when Mesut Ozil signed a deal with Arsenal last summer.
Arsene Wenger has a lot more money at his disposal than recent transfer windows and has spoken highly of Cavani in the past, though he would still face tough competition from Chelsea who are known for paying some of the highest wages in the world for their players.
Jose Mourinho made a serious play for Wayne Rooney in the summer with the manager making it clear he's aware of striker problems at Stamford Bridge. His forwards have been somewhat disappointing so far this season and landing Cavani would be a huge coup for the west London club.
Bayern Munich, Real Madrid, Barcelona and Borussia Dortmund are also believed to be interested as all the clubs were when Cavani made the £50m move from Napoli in the 2013 summer.