£60m Arsenal and City Striker Target Gives Hint Over Future
Edinson Cavani says he will consider all offers at the end of the season
Edinson Cavani has admitted he is unsure what the future holds as transfer speculation continues to link the Uruguyan with a possible move to Arsenal or Manchester City.
Arsene Wenger admitted he liked the look of Cavani back in January but felt he would command a fee Arsenal would be unable to match.
However, with the summer edging closer it could come down to the player's desires over whether he stays or leaves the Italian club.
After impressing in the Champions League last season, Napoli were thwarted by eventual winners Chelsea in the last 16, and they have since had to contend with competing in the Europa League.
Should Arsenal qualify for the Champions League then they may be an attractive option for Cavani who says he will consider his options when the season comes to an end.
"I'm fine in Naples, but in football there are lots of things to consider," He told La Repubblica.
"I can only say that I will give my all in this shirt until the last day I wear it."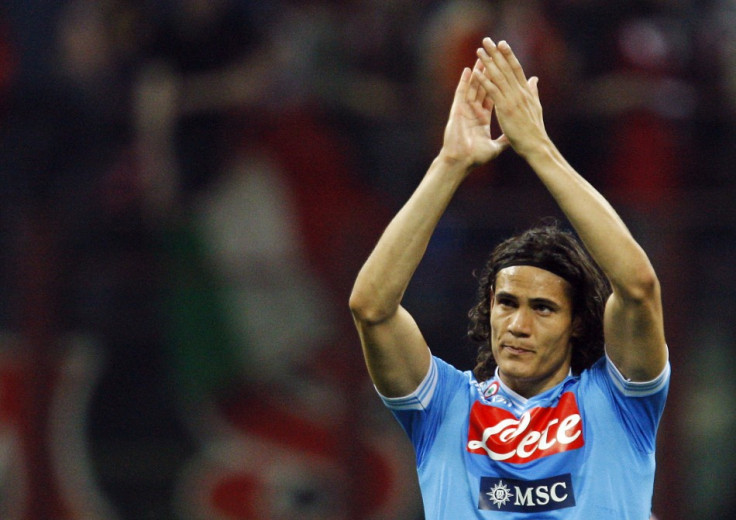 Napoli claimed that if Cavani were to be sold, they would demand at least £60 million for their star, who has scored 29 goals in 36 appearances so far this season.
Arsenal have reportedly got more money than they usually afford themselves to spend in the transfer window, but to spend such a large amount of their budget on Cavani, who would cost three times the amount Wenger has spent on his most expensive players in the past 16 years at the club, would be a big ask.
Meanwhile, the Gunners would have to contend with competition from City for Cavani's signature, with the club always maintaining an interest in the 26 year old.
Roberto Mancini will be looking to bolster his squad, and particularly the attacking line up this summer, with the Italian hopeful he can match Robin van Persie's impact for Manchester United with his buys.
Napoli are currently back to their top form in the Serie A, but their efforts haven't been enough to topple Juventus, who currently sit at the top of the table with an 11-point lead.
But Cavani insists the fight isn't yet over for the title, saying: "Second place is not guaranteed, it's up to us. We have to make it ours in the forthcoming matches.
"Actually, looking at the team above us [Juventus], not even the championship is decided. We will do everything we can."
© Copyright IBTimes 2023. All rights reserved.