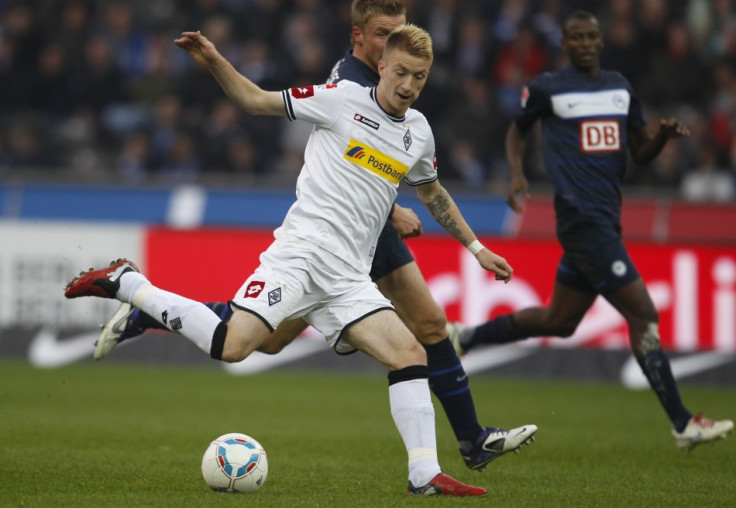 Arsenal have been dealt a blow in their pursuit of top German target Marco Reus, with Bayern Munich admitting that they might make a bid for the 22 year old in the next transfer window.
Reus has starred for current club Borussia Monchengladbach since moving from Rot Weiss Ahlen in 2009, and at just 22 years of age, is attracting a lot of interest in preparation for the January transfer window.
Arsenal in particular have been connected with the starlet, but he has expressed a desire to stay in Germany if possible, the International Business Times learned last month, and should Bayern decide to make a bid, the German giants will likely be favourites to land the prized signing.
Bayern CEO Karl-Heinz Rummenigge has admitted the club are chasing Reus, but are deciding whether he's worth the £16 million price tag.
"He is definitely an interesting option. I've been told that he has a release clause of £16m, though," Rummenigge told TZ.
"That's no pocket change for us. However, Bayern will internally discuss this matter and see what's possible."
Arsenal first enquired about Reus' availability at Borussia on the advice of Gunners legend Jens Lehmann. While manager Lucien Favre admitted that the north London club have shown interest in the playmaker, he insisted that Borussia want to keep one of their biggest up and coming stars.
"Jens Lehmann gave him [Wenger ] a tip to keep an eye on Marco and Arsene then called me," he said at the time.
"I know Arsene very well and I just told him the truth: that Marco is a very, very interesting player.
"But I am coach of Monchengladbach and I would like to keep hold of him."
Arsenal haven't given up hope of landing Reus yet though, and with his get out clause around the same amount as Alex Oxlade Chamberlain's fee, Wenger wouldn't have an issue with paying the price if he believed in Reus' ability.
Wenger has said that he doesn't believe he will sign anyone new in the January transfer window, though the Arsenal manager has admitted he would go for a player if he felt they would improve the squad.
"At the moment, I will do nothing in January," he said.
"I have a big squad, but if you knock at my door and say 'I have a fantastic player for you', I will not turn it down. If we have no injuries, we should get away with it. We still have offensive players, but we could be a bit short if we have an injury."