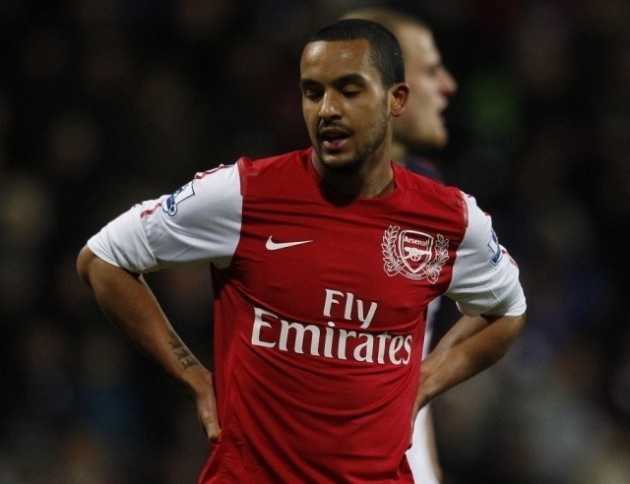 Arsenal have received a major injury boost as the Daily Mail reports that the trio of Theo Walcott, Jack Wilshere and Kieran Gibbs are set to return when the Gunners take on Manchester United next Sunday at Old Trafford.
The Gunners have been criticised for their lack of depth in attack and defence but the return of three of their most prolific contributors should see the Gunners go to Old Trafford with their tails up. However, the players are not available for Arsenal's crucial trip to Borussia Dortmund in the Champions League but Arsene Wenger will be hoping that his side are able to hold the Germans to a draw and raise the tempo when they host Marseille at home and on their trip to Napoli.
The Gunners have been in prime form in the league, winning eight of their last 10 fixtures, including a morale-boosting 2-0 win over title challengers Liverpool last weekend. A win against United will quieten all the doubters and the Gunners will have the backing to make their first serious attempt in over five years to lift the Premier League trophy.
The return of Walcott will be a major defining factor for the Gunners, who have often lacked the pace to move in behind the final line of defence. Walcott's runs will also complement Mesut Ozil's style of play who was renowned for his ability to find Cristiano Ronaldo at Real Madrid, something which has made him the highest assist maker in the top five leagues over the past three years.
Arsenal's injury list, which was among the worst in the Premier League, will considerably lighten by the end of November when Lukas Podolski is set to return, leaving the Gunners with only Alex Oxlade-Chamberlain and Abou Diaby to worry about, who are both out with long term injuries.
Wenger will also be buoyed by the international break that presents itself following their game against United and should give the Gunners some much needed rest after a hectic period in all competitions.