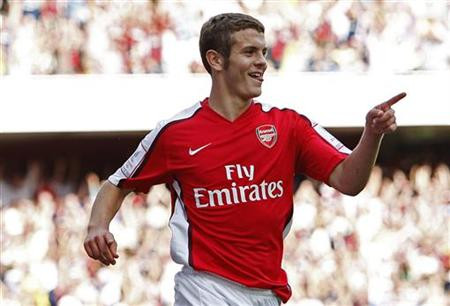 Arsene Wenger has confirmed that Jack Wilshere could make a return as early as within the next month, as the midfielder continues to recover from an ankle injury.
Wilshere has been out of action for the entirety of the season, and though it was hoped he would have recovered by now, the England international suffered a setback in the form of a stress fracture to his foot at the start of the month.
But Wenger believes that so long as the youngster doesn't suffer any more problems with his recovery, he could be back in action for Arsenal within the next four weeks.
"Jack can be back within a month if all goes well," he said, as reported by the BBC.
"The recovery of his latest problems looks very good. The latest scan was very positive.
"We go cautiously step-by-step because we tried to push him back quicker in the first instance and he had a setback. So this time we have to be cautious and not go too quick.
"He can be back before then end of the season, of course."
The news will come as a boost for the England squad as well as Arsenal, especially if Wilshere is able to build up some experience in the Premier League to stake his claim on a spot for the 2012 Euros squad.
But it wasn't all good news for Arsenal, with Per Mertesacker looking set to be out for at least a month with an ankle injury picked up against Sunderland.
"He had a reconstruction of his ankle in Germany before he joined us and the scan didn't look to positive yesterday [Monday]," Wenger explained.
"He went back to Germany to consult the specialist to see where we go from there and he is supposed to contact me this afternoon to tell me exactly what the specialist told him.
"Certainly in the next month he will not be with us."