Alex Oxlade-Chamberlain believes that victory over newly crowned Premier league champions Manchester United on Sunday would give the club a huge boost ahead of next season.
While United sealed a 20th league title with a 3-0 victory over Aston Villa on Monday night, Arsenal are still battling to secure a top four finish and a place in the next season's Champions League.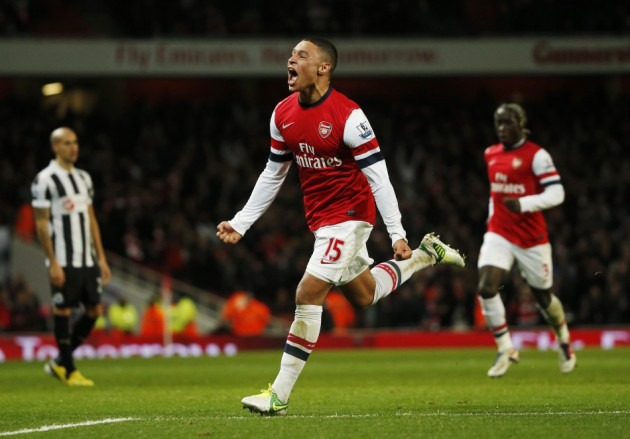 The Gunners are some 21 points behind Manchester United and have endured another difficult season in which they failed to make it through to the latter stages of any of the cup competitions.
Now they must attempt to remain above London rivals Tottenham and Chelsea in order to make sure of a sport in Europe's elite competition. Victory over United would be a huge statement of intent and Oxlade-Chamberlain feels it could even impact how they perform next season.
"Obviously it's a massive game for us with a Champions League place at stake but it's also massive for next season with the confidence we can get from winning," he told the Evening Standard.
Arsenal have excelled in the league in recent weeks and Oxlade-Chamberlain feels that a morale boosting win over Bayern Munich, which still saw the club knocked out of Europe, is the reason for their upturn in form.
"The win over Bayern wasn't enough to get us to qualify for the Champions League quarter-finals but it was still a massive boost for us as a side," added Oxlade-Chamberlain. "We're still feeding off the momentum of that and a win over United can have the same effect."
The young winger feels as though Arsenal's first team is good enough to compete with any club in the world and that once they have regained their confidence they will be able to challenge anyone.
"As a team we're as good as anyone in the Premier League, right up there with the best in Europe and worldwide," added the former Southampton midfielder.
"There's a few things we need to tie up but we've been working hard as a team and becoming an increasingly tight unit and we're winning games that we should win. We have quality players in our side and believe we can beat anyone."
While Oxlade-Chamberlain will be hoping for more success next season, he will be reminded of what can be achieved away from Arsenal when Robin van Persie returns to the Emirates to play his former club, having already claimed a Premier League winner's medal in his first season with United.