Monreal Credits Spanish Duo With Making Arsenal Move Easier
Nacho Monreal says that Mikel Arteta and Santi Cazorla have made the transition to Arsenal a lot easier
Nacho Monreal has credited Santi Cazorla and Mikel Arteta with helping him settle into life at Arsenal, with the left-back admitting that the weather in particular was tough to get used to when he moved over to England from sunny Spain.
Monreal was Arsene Wenger's sole January transfer window signing, and so far the defender has made a positive contribution to the side amid Kieran Gibbs' injury problems.
And while he admits it has been tough to undergo a complete change in culture, he insists that life at Arsenal has become like a second home, thanks to his Spanish teammates.
He quipped to Arsenal media: "The worst change for me is the difference between a very hot town in the south of Spain and the freezing cold weather over here!
"However, London is one of the best, perhaps even the best city in Europe. It's very diverse. You can go out and there are cinemas, theatres... there's a lot of choice. Thanks to the help of Santi and Mikel I'm adapting well to the way of life over here and I'm happy."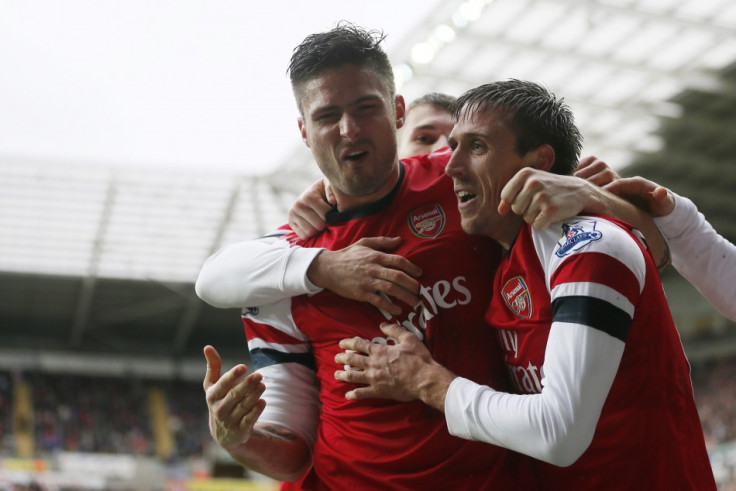 Monreal also credited Wenger with keeping faith in his abilities and giving him a real chance to show what he can do for Arsenal.
"Since I've been here the manager has given me a lot of confidence and he's been starting me," he explained. "This has been very important for me because it helps a lot to feel that the manager has faith in me, especially as I've just arrived. This in turn this leads to good performances.
"Everything has been challenging in different amounts, because the league is completely different to La Liga. Coming here and not speaking the language, being unable to communicate with my teammates, is one of many difficult situations that is making me grow as a person and as a player.
"It has been tough adapting to the type of football played here in England as the players are a lot more physical. There's also a different style of play, as I've said before there's an emphasis on reaching your opponent's goal as quickly as possible. I've been here two months now and little by little I am adapting to this style of play. I am happy to be here."
Arsenal are currently fifth in the table, two points behind Chelsea and four adrift of Tottenham Hotspur. The side, along with Monreal, will be desperate to make the most of their final eight games as they aim to jump into the Champions League qualification places.
© Copyright IBTimes 2023. All rights reserved.