Arsenal midfielder Aaron Ramsey has revealed a change in the Gunners' tactics, in recent games, is responsible for their success. The north London club have lost only once in the last five games, in all competitions, and the run includes a 2-0 away win over Bundesliga leaders Bayern Munich.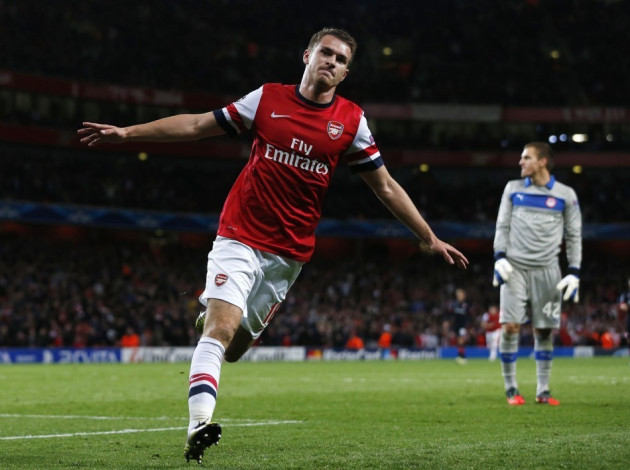 "In the past, we've been accused of starting slowly and I think that's something we've changed, especially in the last month. We've started off on the front foot, defended high up the pitch and won the ball back in dangerous areas. We did that plenty of times [against Reading]," the Welsh international explained to the club's Web site.
Ramsey played a key role the Gunners' 4-1 weekend win over Reading; the result leaves the club two points behind Chelsea in fourth place and still in contention for Champions League football next season.
Meanwhile, the young midfielder did have a few bones to pick with Arsene Wenger. The 22-year-old has played in a number of positions this season and feels it is beginning to affect his form. The central midfielder made a brief cameo at left-back against the Royals, after Spain international Nacho Monreal was taken off injured.
"That's another position to tick off! It was only a quick two minutes there, but there's not many left that I haven't played in. It's difficult when the roles are different. You like to stay in your position and get that consistency," Ramsey explained.
"Hopefully now I can get a few opportunities to play in my position where I'm comfortable and where I feel like I get the best out of myself. I did well and hopefully I can continue that now," he concluded.
Arsenal will travel to Loftus Road on Saturday, to face Steve Clarke and West Bromwich Albion in the run-in to the end of the season. They do have a few tricky games, such as the visit of Everton and games against relegation threatened Wigan Athletic and QPR.
However, the most high-profile match left on their calendar is the visit of Premier League leaders Manchester United, on 28 April. The good news for Arsenal fans, though, is Sir Alex Ferguson's men are likely to be declared champions before then, meaning they may be easier to play.