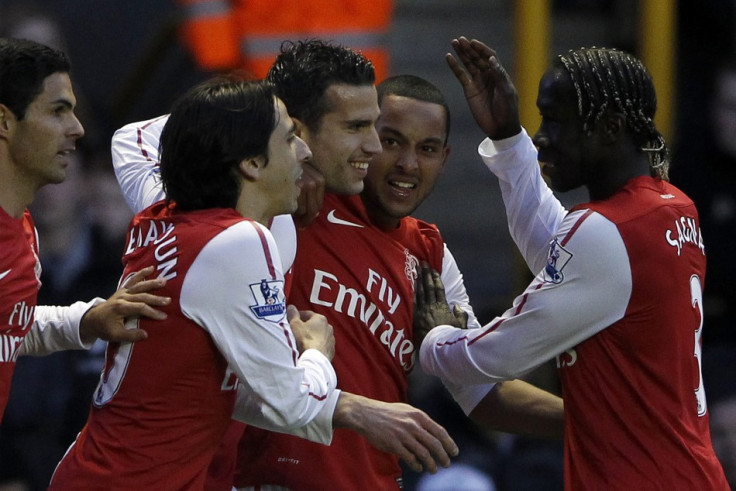 Arsenal end their pre-season tour of Asia with a game against Hong Kong club Kitchee SC. The Gunners will want to end what has not been a very good tour, in terms of results at least, on a positive note and register a strong and confident win to boost morale ahead of the new season.
The Gunners' first gamer was against a Malaysian XI, whom they beat 2-1 thanks to late goals from youngsters Thomas Eisfeld and Chuks Aneke, in the 86th and 92nd minutes respectively. The hosts took lead in the first half, with a thunderous strike from midfielder Mohamad Azmi.
The next stop on the tour was a game against Premier League champions Manchester City in China and in what was the first true test of their preparation for the season ahead, Arsenal fell to a 0-2 defeat to Roberto Mancini's men. The English champions scored in quick succession towards the end of the first half, with strikes from Argentinean right back Pablo Zabaleta and Ivorian midfielder Yaya Toure. Arsenal finished last season 19 points behind City but did manage a better second half, the highlight of which was a strike by winger Alex Oxlade-Chamberlain that struck both posts and trickled agonisingly wide for a goal kick.
The tour had at least one bright spot - commercially. It helped the club communicate with their vast fan bases in Asia and initiate the process of securing new deals with Asian partners. The club's commercial revenue is nowhere near the size of other major clubs such as Manchester United and Real Madrid, and the 2012 Deloitte Football Money League report shows the margin between revenues for clubs in the top three or four places and the rest (where Arsenal now lie) as widening.
After game against Kitchee, Arsenal will take a two-week break before taking on Bundesliga side FC Koln in a pre-season friendly on 12 August; the game is a contractual obligation in the agreement that transferred Lukas Podolski to the Gunners. However, Wenger will be missing Podolski and fellow new striker Olivier Giroud, both of whom are still recovering from their Euro 2012 exertions.
Confirmed Line-ups:
Arsenal (4-4-2): Szczesny; Djourou, Miquel, Eastmond, Gibbs; Diaby, Coquelin, Oxlade-Chamberlain, Walcott; Miyachi, Chamakh
Kitchee (4-3-3): Zhenpeng; Recio, Cancela, Rehman, Wai Cheng; Yee Lo, Tarres, Huang; Losada, Ka Wai, Yago
Where to Watch:
You can follow the action live ESPN HD and also via the Arsenal Player, on the club's official website.