Without Robin van Persie, Arsenal may been in a very different position this season.
The club are currently in third position and look almost a sure thing to qualify for next season's Champions League, and have shown great resolve in coming back from their worst start in over 50 years.
While Arsenal have a large group of players who have helped the side come back to show they're able to compete with the big clubs, no one can deny that van Persie has had a big impact on their season, even if he hasn't been able to change a result from a loss to a win on every occasion.
So in which match-ups has he been the most influential? And not just in goals, but by inspiring the side to achieve the impossible? IBTimes UK investigates.
Chelsea 2-5 Arsenal, October 29 2011

It was the game Arsenal weren't supposed to win, with Chelsea hosting the side as overwhelming favourites. But van Persie had other ideas, scoring in the 36th, 85th and 90th minutes to seal a big win for the Gunners as they continued to recover from their 8-2 loss to Manchester United.
The striker proved to be too much for then-England captain John Terry to handle, putting two goals past the Chelsea skipper, and one past super keeper Petr Cech to take the club to eight wins in nine games. It also showed a turnaround that made Arsenal look a big force in the league.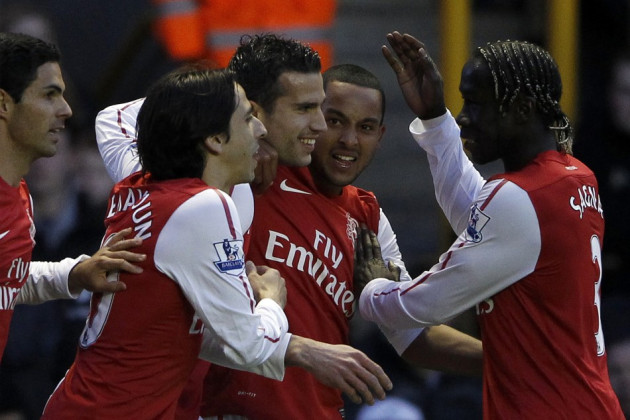 Arsenal 5-2 Tottenham 5-2, February 26 2012
Van Persie only scored one of the Gunners' goals as they showed their talents against their bitter rivals, but Arsenal should be thankful that they had their captain around to keep the side standing tall against a Tottenham side who were favourites to push Manchester City and United for the title.
At two goals down, Bacary Sagna and van Persie were able to score to bring the sides level before half time. And his pressure in the second half, including just as Sanga arrived behind van Persie to support the striker and score his second for the match, gave Arsenal the momentum they needed to crush Spurs and show they are still the top side in north London. Now, they sit third in the table while Tottenham are outside the top four.
Arsenal 1-0 Everton, December 10 2011
Robin van Persie scored the only goal in the match, but it was worthy of being goal of the season in the Premier League at least. The striker was able to catch a cross from Alex Song with stunning perfection, and finished low and off the post as Tim Howard struggled to get to the ball. It was his 33rd goal for the year, and took the Dutchman dangerously close to Thierry Henry's highest year of 34, and Alan Shearer's record of 36.
The win was particularly important as Arsenal were recovering from their shocking start to a season, and showed that with van Persie on board, the club could be a serious contender for the top four once more.
Arsenal 7-1 Blackburn, February 4 2012
Another match to help Arsenal regain their standing as a top Premier League team, and the link-up between a great leader in van Persie and the young potential star in Alex Oxlade-Chamberlain was plain for all to see.
Van Persie was able to score a hattrick, but also fed a reverse pass to Chamberlain that started the Englishman's brace for the day. A sending off for Blackburn, as a result of a poorly-timed tackle on van Persie, made the job easier for Arsenal, but the side's performance was no doubt unbeatable on the day. "Robin van Persie had some good assists and he is an exceptional player and is deadly when you feed him in the box," Wenger said of his heroics.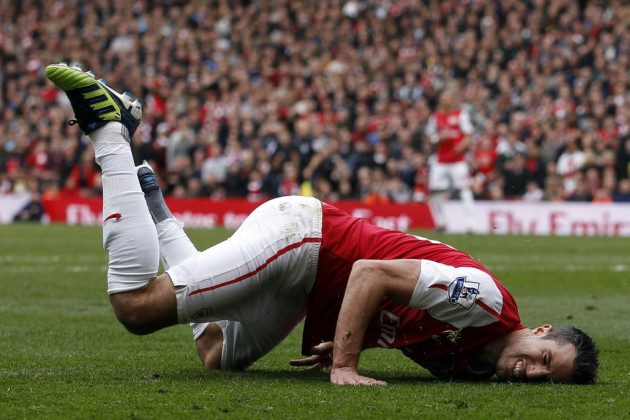 Liverpool 1-2 Arsenal, March 3 2012
Like so many of Arsenal's games this season, van Persie was the reason for the win against the Reds, and essentially shut down any chance that Liverpool had of challenging the Gunners for a top four position. While van Persie often scores early on, it was in stoppage time that the striker really shone against Kenny Dalglish's men, though his equaliser shortly after Laurent Koscielny scored an own goal to put Liverpool up 1-0 was unbeatable as well.
Van Persie showed a side with strikers hitting post after post just how lethal his finishing could be, equalising the own goal within eight minutes and taking Alex Song's through ball straight past Pepe Reina in the 90th minute. The match took his tally to 30 for the season, and a Champions League spot for next season looked a not so far off dream.
Arsenal 3-0 AC Milan, March 6 2012
Arsenal were down 4-0 going into the round of 16 second leg with AC Milan, and while van Persie's leadership was unable to take the side to the point of beating down their Italian counterparts, he could at least take the north London side out with dignity.
A score from a penalty to take the Gunners up 3-0 increased their momentum, and led the squad into the change rooms at half time with belief that they could complete one of the greatest comebacks in Champions League history. But without Alex Oxlade-Chamberlain for the majority of the second half, van Persie was unable to capitalise and essentially reset the scoreline.
Despite this, the score allowed the north London club to leave the competition with their heads held high, and a great deal of that was to do with their skipper holding the club together throughout the adversity.