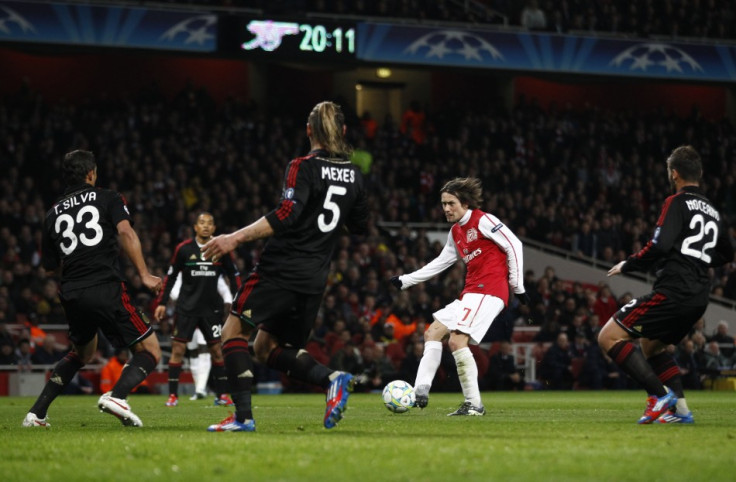 Arsenal's Czech international midfielder Tomas Rosicky thinks his lengthy spell out with injuries, a few years ago, could actually help prolong his career by two years.
The 31 year old midfielder did not feature for the Gunners through the 2008/09 campaign after picking up a hamstring tendon injury midway through the previous season. he eventually regained fitness and returned to the first team in September 2009, after 22 months of absence and the Czech captain believes those two years do not count to his football age.
"You know, my normal age is 31 but in football years I'm 29 - I lost two years because of injury so let's just talk about my football age. I still believe I have plenty in me - we'll see how it all goes, but right now I feel great and want to continue this way," Arsenal.com quoted the player as saying.
Rosicky has had an excellent run of form in recent months and several critics, who earlier wrote off the veteran, have now admitted his best could be yet to come.
"I can say that I feel very well and I hope I have many years to come. You see players like Ryan Giggs and Paul Scholes - what they are producing at their age for Manchester United is great and that's a real inspiration for me," Rosicky stated.
The former Dortmund man was restricted to substitute appearances over the last couple of seasons but some magnificent performances in the past few months have made him a regular starter for the London club. Rosicky feels his positional change in the Gunners' midfield has been a crucial factor in his improved form.
"I'm in the advanced position of the three, looking to get in between the opposition's midfield and defence. When we have the ball I'm starting quite close to Robin [van Persie] up front, and after that I can come a bit deeper and stretch the pitch out. I can't say for sure whether this has made the whole difference, but I would certainly agree that what the boss is asking [of me] at the moment suits me nicely. I'm enjoying the rhythm the manager has given me now," Rosicky said, in another report on Arsenal.com.