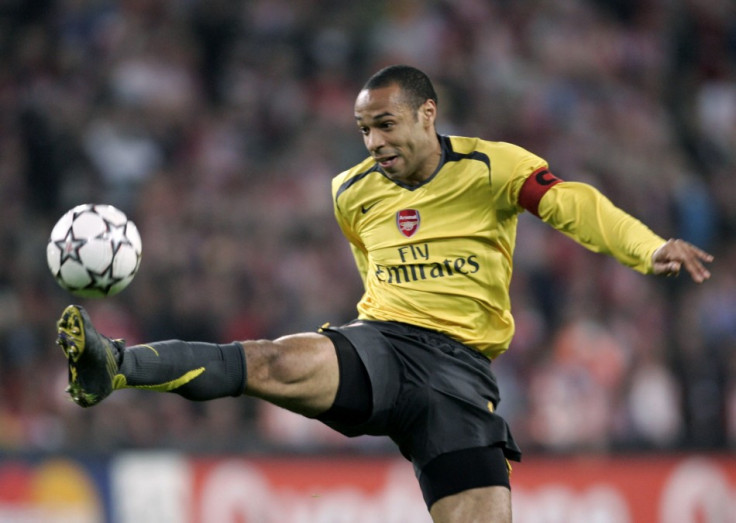 Thierry Henry believes that despite critics insisting the contrary, Arsenal are closer than ever to breaking their trophyless spell and winning the FA Cup this season.
Henry completed a two month spell with the Gunners this year, and was surprisingly useful to the squad both on and off the pitch, raising calls for him to stay at the Emirates for a while longer.
But New York Red Bulls made it clear that Henry would definitely be leaving Arsenal, and now that he has returned to America, the prolific striker believes that the side are closer than ever to winning a coveted trophy.
"Why not?" Henry told the official Arsenal website when asked if the club could win a trophy this season. "This team is not far from winning something, we all know it.
"If you can win at Sunderland, you don't know how the draw is going to be. You might play at home next, then the semi-finals are around the corner.
"You never know if Jack is going to come back and Abou Diaby is not far from coming back. You don't know what could happen. If you are still in the competition then those players coming back will only help you find top form.
"Hopefully the team can stay in the competition, even though it will be tough at Sunderland. Jack, Abou, you want them around. Jack is going to be, hopefully for the Club, a talisman in years to come. He grew up an Arsenal fan so it is important to have a guy like that in the dressing room. We will see."
Arsenal are currently fourth in the Premier League table, and have slowly clawed their way back into Champions League contention after the poorest start to a season for the club in over 50 years.
And though competition for the fourth spot looks to be tighter than in recent years, with Liverpool and Chelsea also vying for a place alongside Tottenham, Manchester United and Manchester City, Henry believes that Arsenal can keep their dominance over their rivals if they keep up their form at home.
"The league is going to be very difficult but the top four is in our hands," he explained. "We have the squad, there is a long way to go.
"We have to play Chelsea at home, Tottenham at home, Newcastle at home, Man City at home - it is clearly in your hands. Whereas Liverpool, for example, have some tricky games away. It's not impossible.
"It's sometimes down to having momentum. Hopefully we can build on what we did at Sunderland last weekend from being 1-0 down. With 15 minutes to go it didn't look like coming back.
"OK, you can say we have just lost 4-0 in Milan but you have to believe. If you don't believe then you might as well go home. You have got to believe and always think you can turn things around. The belief is all you need to have."