Arsenal Midfielder Wants More Game Time
Arsenal midfielder Tomas Rosicky has expressed his disappointment at lack of first team opportunities this season.
The 32-year-old has started in only four games in all competitions this season but was part of Arsenal's Champions League win over Bayern Munich at the Allianz Arena last week. The main reason behind his absence was an Achilles problem that kept him out of the side for majority of the season but the midfielder believes he is now back to full fitness and ready to play a regular role.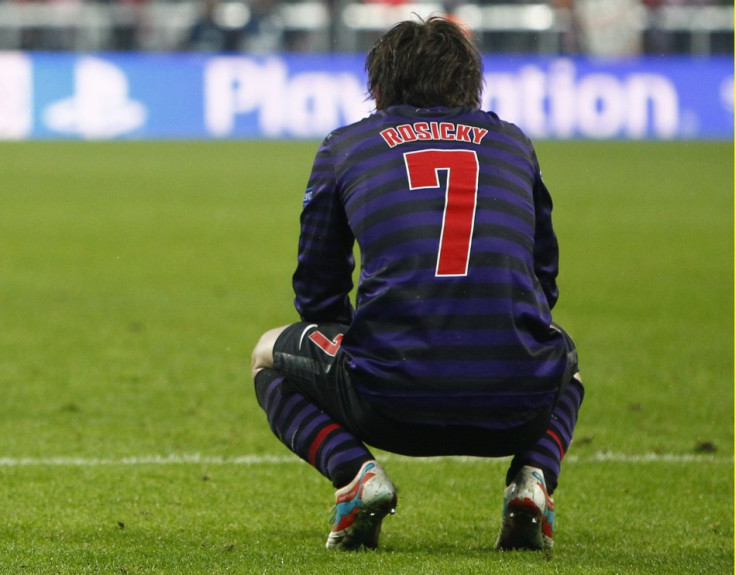 "Naturally, I would like to play more often, that's for sure. I feel very well, the results in fitness tests were the same as they were in previous seasons when I played regularly. When the coach picks me, I go along with all the tactical tasks and I think I have nothing to be ashamed of. It's the manager's team and I fully respect his decisions. I cannot do anything else other than train properly and wait for a chance," he said.
However, Rosicky, who has spent seven seasons at the club since his transfer from Borussia Dortmund in 2006, has Arsenal's best interests at heart and insisted helping the team qualify for next season's Champions League is the only thing that matters. The Czech had signed a two-year contract extension with Arsenal last year, after his brilliant performances during the second half of the campaign helped the Gunners secure qualification for the 2012-13 Champions League season.
"The team has had problems so there's no space or time to complain that someone is not playing. To me, personally, the most important thing is that the club which I love finishes in a position where we can compete in the Champions League. Everything else can be sorted out after the season, on a beach for instance!" he said.
The midfielder added the club's lack of trophies this season will not be a demotivating factor in the run-in. Arsenal are now going through their longest run without any silverware since the onset of the Premier League.
"Even if we have been eliminated from all the cup competitions, we have enormous motivation to fight for fourth spot, which is extremely important for Arsenal. There's a lot of points left to play for and we are just four points behind, that can be reached. We just need a run of good results," he said.
© Copyright IBTimes 2023. All rights reserved.