Arsenal are pursuing highly-rated Bundesliga striker Adam Szalai, according to reports in Germany, as Arsene Wenger looks to bolster his attacking options in the January transfer window.
The Gunners missed out on landing Lewis Holtby to rivals Tottenham in the last week, and as a result Wenger has reportedly stepped up his search to improve on the squad and make a serious claim for a top four spot.
In 20 appearances for Mainz this season, Szalai has scored 11 goals, and the 25 year old could potentially bring Arsenal a great deal of support up front as Marouane Chamakh departs for West Ham on loan and Gervinho heads to the Africa Cup of Nations.
Lukas Podolski and Olivier Giroud were acquired by Arsenal in the summer transfer window to eventually replace the outgoing Robin van Persie. The strikers have had mixed success this season, and currently the Gunners are sixth on the table.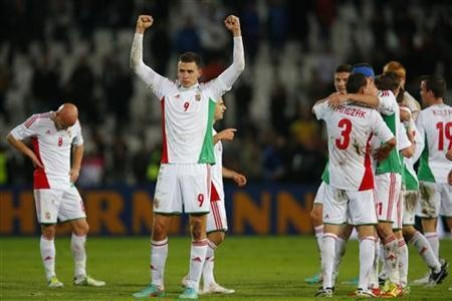 While last season they were able to capitalise on Tottenham's collapse in form to snare fourth, and eventually third place in the table, this time around with a new look squad Spurs could prove to be a real test for the north London side when the season hits the business end.
German paper Bild is claiming that Wenger wants to bring Szalai on board immediately, with the Hungary international apparently grinning as he said "I know of nothing..." regarding a transfer.
Szalai, whose contract runs out with Mainz in 2015, has no exit clause in his deal, and the club have emphatically denied that they will sell him no matter the offer.
"There is definitely nothing [in it]," manager Christian Heidel said. "For no amount of money will we sell him in January."
But the German paper suggests that the club might be using the denial as a tactic to get top dollar if Arsenal do come in for the striker, who has drawn interest from Borussia Dortmund and Wolfsburg.