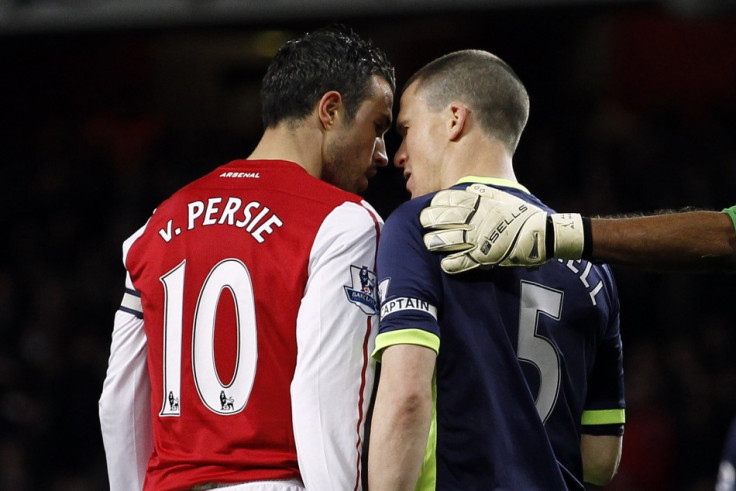 Wigan Athletic captain Gary Caldwell has accused Robin van Persie of lacking dignity after the Arsenal skipper refused to shake his counterpart's hand, in the aftermath of Monday evening's defeat for the Gunners.
Caldwell and van Persie were involved in a confrontation in the final minutes of the match, in which relegation battling Wigan registered a shock 2-1 win at the Emirates. The Dutchman appeared to snub Caldwell's offer of a handshake after the game, much to the disappointment of the Scotland defender.
"To be at a great club like Arsenal you have to be a bad loser, but I think you also have to have a bit of dignity at the end. When we got beaten 4-0 at the DW stadium earlier this season I shook everybody's hand and I expect the same back," the Guardian quoted Caldwell as saying.
"He was obviously unhappy. I went to shake his hand and he threw me away, then just gave me a wee pat, which is disappointing. I suppose others wouldn't have done that, but he's a great player because he has that will to win, and a fantastic ambassador for Arsenal," the 30 year old said.
Caldwell said that he could understand the player's disappointment at the result and also revealed that he voted for van Persie as the Professional Footballers' Association Player of the Year.
"These moments happen when you're really disappointed at the performance and the result. You wouldn't want to change that in him, but it's just disappointing from my point of view. I've been in the same situation myself. You lose games and you're bitterly disappointed and you show that in a manner of different ways. Like I said, he's a fantastic player. I actually voted him for player of the year, and I'm sure he'll go on to win that," Caldwell added.
Meanwhile, van Persie was pictured spending time with the Barcelona squad at their team hotel on Park Lane after the match against Wigan, according to the Daily Mail.
The La Liga team are in London ahead of Wednesday's Champions League semi-final first leg clash with Chelsea and the Arsenal striker was seen chatting with fellow Dutchman Ibrahim Afellay. The Dutch team captain was also said to be keen to catch up with former team mate Cesc Fabregas.
However, the visit has led to speculation the 28 year old may be seeking a summer move away from the Emirates. The Dutchman has just one year remaining on his Arsenal contract and has yet to commit his future to the north London club. Real Madrid, Manchester City and AC Milan have also been credited with an interest in the Premier League's top-scorer.