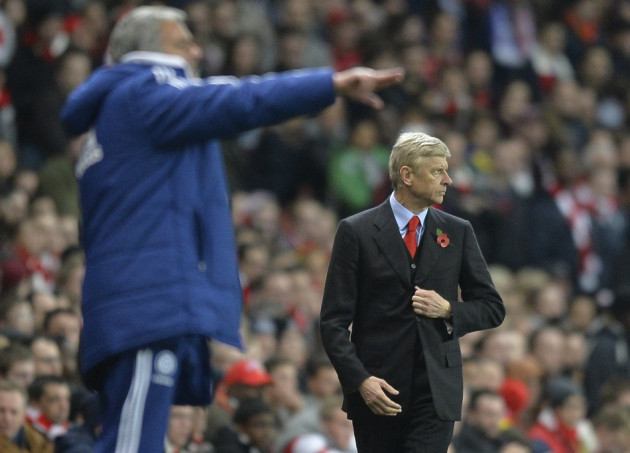 Arsenal manager Arsene Wenger has rubbished Chelsea boss Jose Mourinho's claim his side can't sustain their start to the campaign which sees them top of the Premier League after 13 games.
The Gunners lead Chelsea by four points as both sides enter the crucial festive period where the pair face seven games in less than four weeks.
Mourinho began the mind games with Chelsea's title rival by claiming that Manchester City remain the favourites for the league, despite them trailing Arsenal by six points. Wenger meanwhile, has more belief in his side's capabilities.
"There is no real specific pressure. It is a desire," Wenger said. "We want to be where we are. What is important is that we want to play well and maintain that desire to play together and work.
"When I arrived here people explained I couldn't win the title as I am foreign. Everybody has their own logic. I just think you win the title through your quality.
"If we didn't win for eight years it is because we weren't good enough in the important moments of the season. We have a good opportunity to show we are good enough [now] so let's take it.
"The only thing that is changing is not our minds, it's your mind, because until now you never ask me about the pressure because you always thought it was an accident that we are [top] and it won't last.
"Now that it's lasting a bit longer, you start to think: 'we have to consider them a bit more seriously'. You start to think is it a pressure for us? No. We just continue to play well and that's the pressure we have - the desire to play well."
While Arsenal have home games against Hull City and Everton in the next four days, Chelsea face daunting trips to Sunderland and Stoke City and risk losing further ground on their title rivals.
Arsenal and Chelsea face each other on 23 December in a genuine test of both sides' title credentials this season.