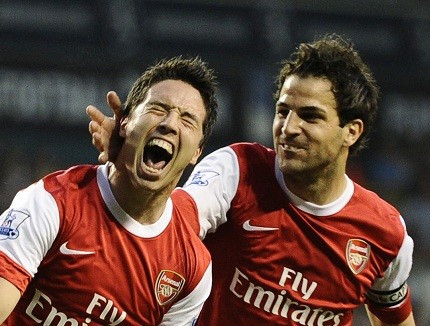 Arsenal midfielder Andrey Arshavin has revealed Cesc Fabregas made a recent visit to the club's training ground to meet with his former teammates.
The former Arsenal captain ended his lengthy association with the Gunners in the summer after he successfully engineered his protracted return to his boyhood club Barcelona.
While Arsenal appeared to initially struggle following the high-profile departures of the aforementioned Fabregas and also Samir Nasri, Arsene Wenger's side have seemingly adapted to their absences by embarking on a stunning run of form.
Although the World Cup winning playmaker has left, Arshavin admitted he is still in contact with his ex-Arsenal teammate.
Answering questions on his official website, the Arsenal midfielder confirmed he had been in contact with Fabregas, following the Spaniard's surprise visit to their training facilities in London Colney.
"A few days ago Cesc came to our training ground; we had an opportunity to communicate with each other." The Arsenal midfielder confirmed on his uniquely insightful website.
While Fabregas' empathy with Arsenal remains patently strong, the former Emirates talisman recently congratulated the Gunners on their 125 year anniversary celebrations, intimating he was humbled to be part of the north London club's rich history.
Fabregas tweeted: "Happy 125th anniversary to AFC, so much history, very proud to have played a little part of it. Victory would make it more special. GL 2day!"
Although Fabregas' respect for Arsenal remains, Yossi Benayoun recently indicated the club's current form in the Spaniard's absence suggested they had moved on from his departure.
"Arsenal lost two of their biggest stars." The midfielder told the Sun recently. "Fabregas and Nasri are both good players and, maybe, the fans expected even bigger names. But I think all the players Arsene Wenger bought on the last day of the transfer window have proved themselves and we are playing much better and winning games.
"I think Arsenal supporters now understand we have a good team with a lot of quality and I believe they have already forgotten about the other players."