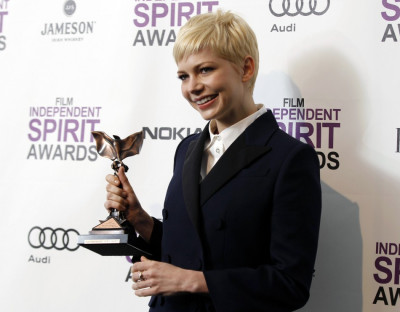 "The Artist" swept the awards once again... this time at the 52nd Independent Spirit Awards that took place in Santa Monica, California.
The Independent Spirit awards, which are held the day before the Oscars, could well be seen as a key indicator to which way the pebndulum swings, on the biggest and most glamorous night in Hollywood's calendar - the Oscars.
The Spirit awards ceremony was a star-studded affair with stars like Michelle Williams, Zac Efron, Penelope Ann Miller, Kate Beckinsale, Olivia Wilde, Elizabeth Banks, Zoe Saldana and Christopher Plummer present at the occasion. The event was hosted by actor Seth Rogen.
The Independent Spirit Awards saw Oscar favourite "The Artist" bag four awards including Best Film, Best Actor, Best Director and Best Cinematography.
Meanwhile, Michelle Williams bagged the Best Actress award for her role in "My Week with Marilyn" and screen legend Christopher Plummer won Best Supporting Actor for his role in "Beginners".
The biggest awards night in showbiz is only a few hours away and anxious stars must be keeping their fingers crossed, hoping that they will be the lucky ones to walk away with the golden statue.
As for us... we would definitely like to see the winners of the Spirit awards get lucky again..
Meanwhile, check out the full list of winners at the Spirit Awards...
Best Actor: Jean Dujardin - "The Artist"
Best Actress: Michelle Williams - "My Week with Marilyn"
Best Film: "The Artist"
Best Director: Michel Hazanavicius - "The Artist"
Best Supporting Actress: Shailene Woodley - "The Descendants"
Best Supporting Actor: Christopher Plummer - "Beginners"
Best Cinematography: Guillaume Schiffman, "The Artist"
Best Sceenplay: "The Descendants"
Best First Feature Film: "Margin Call"
Best International Film: "A Separation"
Best Documentary: "The Interrupters"
Best First Screenplay: "50/50"
Piaget Producers Award: "Take Shelter"
Robert Altman Award: "Margin Call"
John Cassavetes Award: Dee Rees (director), Nekisa Cooper (producer) - "Pariah"
Audi Someone to Watch Award: Mark Jackson (director), "Without"
Nokia Truer Than Fiction Award: Heather Courtney
Jameson Find Your Audience Award: Alysa Nahmias and Benjamin Murray