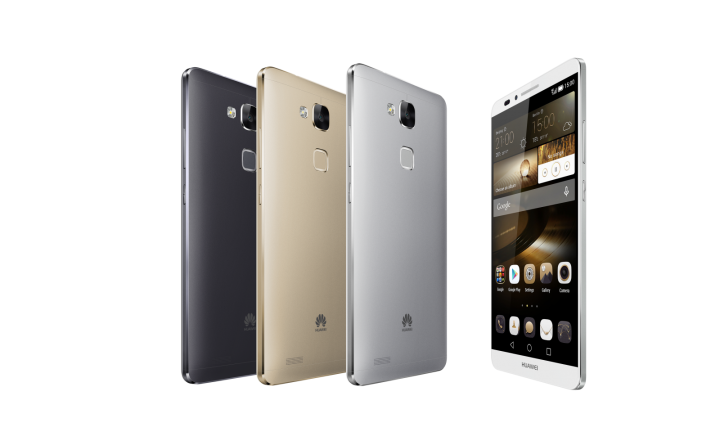 The Huawei Ascend Mate 7 is a big phone and not just in sheer physical size.
The Ascend Mate 7 does feature a large 6in screen but it is also the first device to ship with the company's own octa-core Kirin 825 processor and features Cat 6 LTE connectivity, which promises download speeds of up to 300Mbps.
The phone, which was launched at the IFA trade show in Germany, will go on sale next month in the UK and while Huawei has not revealed a specific price, is has said this is a flagship devices and will be priced accordingly, which means it will likely be close to £600.

The phone will be going head-to-head with Samsung's Galaxy Note 4, with Samsung currently the market leader in the large smartphone - or phablet - category.
This is third in the Mate range from Huawei, but the company says that it has significantly redesigned the phone to make it narrower, shorter, slimmer and lighter than the previous model.
Dan Brown in 0.1 seconds
Huawei is the world's third biggest smartphone maker and it is looking to cement that position while growing its market share in western countries where companies like Samsung and Apple dominate.
To that end, Huawei is pushing the powerful hardware inside the Mate 7, including the company's own Kirin 825 octa-core chipset which promises to be both powerful and power-efficient.
The phone also comes equipped with Cat 6 LTE technology which means that, where available, it will be able to produce download speeds of up to 300Mbps.
Huawei says this will mean you will be able to download a Full HD version of the latest Hobbit film in just over 2 minutes, or the latest Dan Brown novel in just 0.1 seconds (though why anyone would want to do the latter is beyond us).
The problem here is that only very few countries in the world have networks that support Cat 6 LTE speeds, and in the UK is it likely to be many years before we have access to download speeds of this magnitude.
Fingerprints
Mimicking Apple and more recently Samsung, the Mate 7 is also equipped with a fingerprint sensor on the rear cover, which is able to read fingerprints in all orientations which should mean it works a lot better than Samsung's fingerprint sensor.
The Huawei Ascend Mate 7 will attempt to go toe-to-toe with the likes of the Note 4 though it seems to be a step behind in certain areas.
The Mate 7's 6.1in screen will have a resolution of 1920 x 1080 giving it a pixel density of 368 pixels per inch (ppi), which is significantly lower than Samsung Note 4's 5.7in screen which has a resolution of 1440 x 2560 pixels, giving it a pixel density of 515ppi.
The Ascend Mate 7 is also a step behind in terms of camera technology, with its 13 megapixel main camera, compared to the Note 4's 16 megapixel sensor. The Mate 7 does feature a relatively decent 5 megapixel front-facing camera.