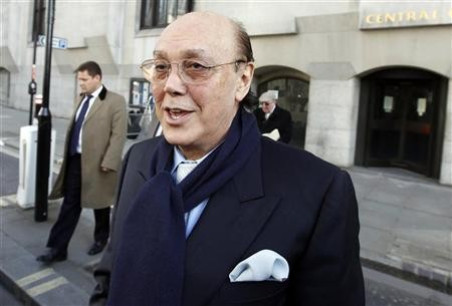 Asil Nadir, the 71-year-old former Polly Peck magnate who absconded from the UK for 17 years, has been found guilty of three counts of theft from his former company at the Old Bailey.
Nadir was charged with stealing a total of £34m from Polly Peck International between 1987 and 1990.
He was acquitted on a fourth charge. Jurors are deliberating the nine outstanding counts of theft.
Nadir fled to Cyprus in 1993 to escape standing trial and only returned to the UK in 2010.
He was accused of stealing the money to pay off his debts and has so far been found guilty of siphoning off £5.55m to fund a range of purchases including shares and antiques.
Nadir took over Polly Peck in 1980 and spearheaded rapid expansion, which culminated in a FTSE 100 listing. But the company fell into rapid decline, collapsing in 1990 with £1.3bn in debt.
Following Polly Peck's demise, the Serious Fraud Office opened an investigation into Nadir.