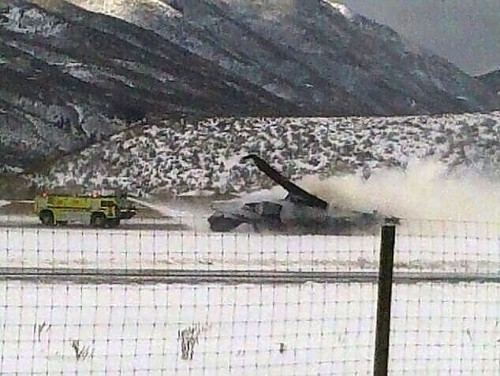 One person is dead and two others injured after a private jet has crashed while attempting to land at an airport in Colorado.
Horrified passengers looked on as the plane exploded into flames on the runaway at the Aspen-Pitkin County Airport, which serves the famous Colorado skiing resort.
Federal Aviation Administration (FAA) spokesman Allen Kenitzer said: "The airplane appears to be a Bombardier Challenger 600, coming from Tucson to Aspen. It crashed while attempting to land."
The plane is said to have attempted a few approaches before crashing and overturning.
Aspen is a popular winter holiday destination for celebrities. Singer LeAnn Rimes posted tweets after witnessing the crash.
"So sad. Horrible plane crash we just saw happen at the Aspen airport."
Comedian Kevin Nealon also witnessed the accident and tweeted: "Horrible plane crash here at Aspen airport. Exploded into flames as it was landing. I think it was a private jet," wrote Nealon.
"Fire trucks and other emergency vehicles still at scene. No word on survivors or who was on jet but I can't imagine there are survivors."
A spokeswoman for Pitkin County Sheriff's Office confirmed the accident but had no details on possible casualties.
It is not clear how many people were on board.