London acid attack captured on CCTV for the first time since spate began
Man suffers burns to face during attempted robbery in Bow.
Police are appealing for information after a delivery driver was sprayed in the face with acid in east London.
The attack occurred around 6:20pm outside a residential address in Dane Place, Bow, on 2 May. The victim, a 21-year-old male, was entering satnav details in his car when the suspect approached him on a pedal bike and demanded money.
When the victim said that he did not have any, he was squirted in the face with a chemical that smelt of ammonia. The suspect then tried to open the locked driver's door and eventually got in through the passenger's door as the victim wiped the substance off his face.
The driver suffered burns to his face but his injuries are not life-threatening. The suspect then rode away as the victim ran into the nearby takeaway and called the police.
The suspect in the video appears to be holding as plastic bottle containing the substance used in the attack. Police previously raised fears of acid attackers using children's drink bottles to contain the harmful substances as they are easy to hide and can cause "maximum injuries" when sprayed.
Detectives have released CCTV footage of the attack as part of an appeal for information. It is believed to be the first time such an incident has been captured on film since the spate of acid attacks in London and the rest of the UK began.
Detective Constable Paul Clare from Tower Hamlets CID said: "This was a horrible assault on a takeaway delivery driver in the early evening. Witnesses were in the area and saw the assault. We are asking them to come forward and help us with our enquiries."
The suspect is described as a white youth who was wearing a black hooded top, blue jeans, black shoes and a grey/green snood. He was on a black hybrid cycle.
Anyone that can assist the investigation is asked to contact Tower Hamlets CID via 101 or by Tweeting @MetCC.
To give information anonymously contact Crimestoppers on 0800 555 111 or visit crimestoppers-uk.org.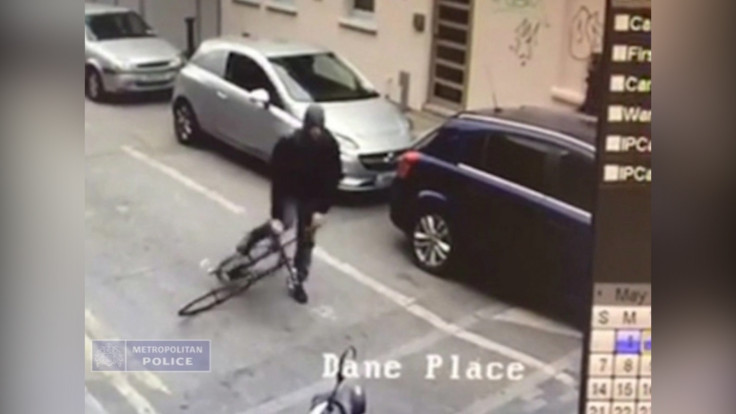 © Copyright IBTimes 2023. All rights reserved.