Aston Martin has formed a partnership with Chinese technology group LeEco to produce its first ever electric luxury saloon car called the RapidE. LeEco is already involved in the electric car market, funding the California-based manufacturer Faraday Future (FF).
The partnership with LeEco is another step towards Aston Martin producing the electric car, which has an expected launch date some time in 2018. Talking of the move, chief executive of the British manufacturer Andy Palmer said that the deal "brings Aston Martin's electric car project forward".
Although financial details were not disclosed, it was revealed the deal will see both companies produce a shared platform for upcoming electric cars. "We can develop future electric vehicles for both parties," said Lei Ding, co-founder of LeEco's car division.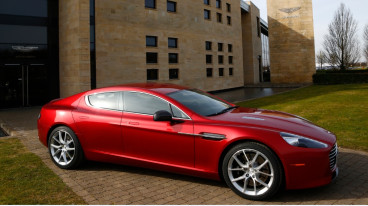 Faraday Future caused a stir at the CES technology show in January when it revealed an all-electric concept car that looked more like a Batmobile than the sensible Tesla rival that everyone was expecting.
A startup which only began talking about itself publicly in 2015, FF has made a number of high-profile hirings from automotive and technology companies, including Tesla and BMW, but its plans beyond the striking concept remain a mystery.
Briefly recognising FF, Aston Martin said in a statement: "The partnership will see [Aston Martin and LeEco] working together in developing and manufacturing RapidE, with potential for adding a range of next-generation connected electric vehicles on behalf of Aston Martin, LeEco and Faraday Future."
Aston Martin has spoken in public about the RapidE before, saying it is based on the petrol-engined Rapide, a four-seat luxury saloon car, and will have a range of at least 200 miles. The model is said to have an electric motor driving each axle, giving the car four-wheel-drive and a claimed power output of 1,000 horsepower.